Artistic Director
FIONA CARNIE    violin, Artistic Director
Fiona Carnie is the co-founder of the Amici String Program and currently maintains a large teaching studio and performs often locally while organizing and providing vision for the Amici String Program. Ms. Carnie has guided generations of string players to the fulfillment of their individual goals. Her students perform with major orchestras and teach at major institutions across the country.
In 1989 Fiona Carnie was invited to follow her mentor and much-loved teacher Dr LIse Elson as senior violin instructor in the Academy Program at Mount Royal College. In accepting this position, she interrupted a successful freelance career in Toronto where she played professionally in the National Ballet Orchestra, Canadian Opera Company, Kitchener-Waterloo Symphony and many other groups.
Her academic credentials include a Bachelor of Music with Distinction from the University of Calgary and a Master of Music from Yale University, where she studied under New York Philharmonic concertmaster, Sidney Harth, and Syoko Aki. In 1996, Ms. Carnie was invited to join the College of Examiners of the Royal Conservatory of Music and she regularly tours Canada as an examiner and festival adjudicator. She recently completed the Rosza Arts Management Program.
Faculty & Staff
"Great teachers and coaches make it possible for students to stretch beyond the ordinary."
RACHEL BALJEU    collaborative artist
Since arriving in Calgary in 2014, Rachel Baljeu has become active as an accompanist and has started a private teaching studio.  She keeps bus with a variety of jobs including playing piano for the Ambrose University vocal program, the choirs One Accord and Arietta, as well as other vocalists and instrumentalists.
Ms. Baljeu graduated from Michigan State University with Master of Music degrees in both Piano Pedagogy and Collaborative Piano.  Her teachers included opera conductor and pianist Alan Nathan for collaborative piano, and Deborah Moriarty and Derek Polischuk for solo piano.  She received her Bachelor's degree from Grand Valley State University, where she had the invaluable opportunity to study piano pedagogy with Helen Marlais and piano with the esteemed collaborative pianist and Mark Markham.
ANDREA CASE   cello

Cellist Andrea Case has a Master's Degree in cello performance from McGill University where she studied on scholarship with Antonio Lysy. She spent her childhood in Calgary where she studied with John Kadz at the Mount Royal Conservatory. She made her solo debut with The Calgary Civic Symphony in 1997 after winning the Calgary Concert Competition. Andrea is co-founder and cellist of the Lily String Quartet, a group that has completed multiple tours across Canada, has performed for CBC Radio 2 and will soon release their recently recorded jazz CD with the award-winning Hutchinson Andrew Trio. As well as being an avid chamber musician, Andrea is sought after as an orchestral
musician, coach, recording artist and teacher. Andrea has played with orchestras in Europe, Japan, California, Quebec and Alberta. She can be heard on numerous recordings in multiple genres including pop/folk (Magnolia Buckskin, Jerry Brody, Heather Blush and the Uppercuts, Johanna Drummond), jazz (Hutchinson Andrew Trio/Lily String Quartet, Karl Schwonik) and classical (John Goulart, Michael Ibrahim). She has 15 years of teaching and coaching experience from Mount Royal Conservatory, Amici String Program and Chinook School of Music, all in Calgary, and the Lippert School of Music in Toronto. Andrea adjudicates regularly at festivals throughout Alberta and British Columbia, and teaches at the Amici summer programs. Andrea currently resides in Calgary with her husband, jazz drummer Karl Schwonik and their sons.
EMILY FULKERSON    collaborative artist
Emily Fulkerson completed her Bachelor of Music in Piano Performance from Appalachian State University in 2011, studying with Dr. Rodney Reynerson. She went on to study with renowned pedagogue Barbara Lister-Sink, completing her program in Injury-Preventive Keyboard Technique in 2013. In addition, Emily has her A.R.C.T. in Piano Performance, studying with Allen Reiser. Returning to Calgary in the summer of 2013, Emily has been ac companying both instrumentalists and vocalists in the area, as well as teaching piano.
EVA HORDOS    collaborative artist
Eva Hordos was born in Budapest, Hungary and began her piano studies at the age of seven.
Eva completed her degree in Music Theory, Choir Conducting and Kodaly Method at the Franz Liszt Academy of Music in Budapest in 1983, studying with Erzsebet Szonyi. In the following years Eva studied with Edit Hambalko and received her degree in Piano and Piano Education in 1985. During her years of study at the university, Eva recorded as a piano soloist for the Hungarian National Radio children's program.
In 1987/88 Eva taught piano master classes throughout Spain on a contract with Real Musical, Madrid.
Since immigrating to Canada in 1992, Eva has continued to teach piano and accompany singers and other musicians, including students of the University of Calgary and Mount Royal University. Eva actively participates as an accompanist at the Calgary Performing Arts Festival, for Royal Conservatory of Music exams, at the Canadian Music Competition, as well as in recitals and auditions.
Eva lives in Calgary with her family and golden retriever Molly, and in her free time she loves baking and listening to jazz.
OLENA KILCHYK    cello
Olena Kilchyk, native of Odessa, Ukraine, graduated from the Odessa State Music College and the Odessa State Conservatory. Since the age 14 Olena was the winner of numerous concerto competitions. While in Ukraine, she was a principal cellist and soloist of the Acedemia Odessa Chamber Orchestra and Virtuosi of Odessa Chamber Orchestra. She also worked for the Odessa State Philharmonic and Odessa Opera.
After immigrating to Canada, Olena received Master of Music Degree in Cello Performance from the University of Calgary. In 2000 she was the winner of the Department of Music Concerto Competition and performed with the U of C String Quartet. She had the opportunity to study with such renowned cellist as Shauna Rolston, George Nikrug, Tania Prochazka, Raphael Wollfish, Aldo Parisot and Amanda Forsyth. Olena was invited to perform at the Banff Summer Festival, Resound Festival, Enbridge Festival, Orford Summer Festival, U of C Chamber Music Festival, Mountain View Festival and Bach Festival.
Olena has been a member of the Prince George, Okanagan, Red Deer and Calgary Philharmonic Orchestra as well as Sinfonia Alberta Chamber Orchestra, Baroque Modern Chamber Orchestra, Players Chamber Ensemble and Saint Crispinis Chamber Ensemble.
Ms. Kilchyk toured extensively throughout Russia, Ukraine, Europe, Canada and China. She is a co-founder of Sempre la Musica Chamber Ensemble, Helia Chamber Ensemble, Denali Duo and Bel Canto Strings. Many of her performances have been broadcast on CBC and other radio and television networks.
Presently Olena is the principal cellist for the Calgary Bach Festival Society. Over the past three years, she has performed the complete cycle of Bach's Cello Suites for the Bach Society. In addition to her performing schedule, Olena has a very busy teaching studio. She is a Branch instructor and faculty member of the Conservatory at Mount Royal University.
KATHERINE MIHYUN KIM     collaborative artist
A native Korean, Katherine Mihyun Kim is a solo pianist, chamber musician and teacher.  After she moved to Calgary, she pursued Bachelor's degree in piano performance at the University of Calgary under Marilyn Engle.  She then went on to earn her Master's degree in piano performance at New England Conservatory of Music in Boston, studying under Gabriel Chodos. Her education was enriched by pursuing her Doctoral degree (Dissertation: Spain and Beyond: Spanish Influence in Piano Music of the Nineteenth and Early Twentieth Centuries) at the University of Minnesota under Alexander Braginsky in 2011. 
She gave a lecture-recital on Spanish Folk Influence on Manuel de Falla'sPiezasEspañolasat the College Music Society 25thPacific Northwest Chapter Conference at Capilano University in North Vancouver.  Further, after winning the Masters Concerto and Aria Competition, she was invited to perform Shostakovich Piano Concerto No.2 with Kenwood Symphony Orchestra Minneapolis.  Recently, she performed Liszt Piano concerto No.2 with a community orchestra led by Nicholas Choy in Calgary.  She has also performed in a number of music festivals as a solo pianist and chamber musician, such as the World Piano Meeting in Coimbra, Portugal, the International Keyboard Institute and Festival in New York, the Aspen Music Festival in Colorado, the Academie Franco-Americaine/Music Studies Abroad in Vaison-la-Romaine, Provence, France, and Oberlin's summer program in Casalmaggiore, Italy.  In addition, she has played at several piano master classes with Anton Kuerti, with André Laplante at the Honens International Piano Competition, with Victor Rosenbaum at the International Keyboard Institute and Festival, and with AquilesDelleVigne and Makoto Ueno at Coimbra World Piano Meeting. 
She is very pleased to move back to Calgary where her family resides and proud to serve as a piano faculty at Mount Royal University Conservatory and a collaborative pianist at Academy for Gifted Youth Program.
DIANE LANE    Violin & Amicini Coordinator
Born in Claresholm Alberta, Diane began her violin studies in Lethbridge before attending the Mount Royal Conservatory in Calgary. Diane graduated from McGill University with her Bachelor of Music degree under the tutelage of Yehonatan Berick. She continued her studies with Edmond Agopian at the University of Calgary and graduated with a Master's degree in violin performance.
Diane has attended The Banff Centre for the Arts as a resident and has returned many times, both as a solo performer and chamber musician. Diane is a founding member of Calgary's Lily String Quartet. The quartet participated in seminars at The Julliard School of Music and Stanford University and has performed across Canada.
Diane is a highly sought-after orchestral and chamber performer; playing with various ensembles in and around Calgary. She is currently the Assistant Concertmaster of the Red Deer Symphony Orchestra, a member of Kensington Sinfonia and a member of Rosa Barocca.  Diane has adjudicated at numerous music festivals throughout Alberta and British Columbia. Diane is on faculty with the Amici String Program and maintains a violin studio at Mount Royal Conservatory.
AMI LONGHI    collaborative artist
Ami Longhi completed her Bachelor of Music degree in 1996 at the University of Calgary, where she studied with Marilyn Engle. During her degree, she had the privilege of also studying with Mayron Tsong, Jamie Syer and Charles Foreman. Ms Longhi has taught piano and music theory privately and at Rocky Mountain College, performed and recorded chamber music, toured internationally as an accompanist with several vocal quartets and choirs, and accompanied student and professional vocalists and instrumentalists.
Ms. Longhi currently teaches piano privately and is on faculty as a collaborative pianist with the Amici String Program and at the Mount Royal Conservatory in Calgary, Alberta.
LEILA LINTON    collaborative artist
Leila holds a BMUS from the University of Calgary where she studied piano with Charles Foreman, French Horn with Kurt Kellan, and secondary music education. She pursued further studies in collaborative piano at the University of Western Ontario with a MMUS in vocal coaching and chamber music with Dr. John Hess. In London she was also the chorus master of the UWO opera company.  Returning to Calgary Leila toured Europe as the accompanist for the U of C chamber choir, was the assistant director for Savridi Singers Women's choir, an accompanist with the MRU Conservatory Academy program and took part in the Mountain View Festival of Song. While raising three boys with her husband Kirk, she maintained an active piano studio, adjudicates for music festivals,  and works as a  collaborative pianist at the University of Calgary, Ambrose University and for the Amici String Program.
TOM MIRHADY    cello, cello co-ordinator
Originally from Vancouver, cellist Tom Mirhady received his Bachelor of Music degree from McGill University and Master of Music from The Juilliard School. He joined the Edmonton Symphony in 1976 and has been with the Calgary Philharmonic since 1979.
He has taken part in many chamber music performances in Calgary and was a founding member of Kensington Sinfonia and the Springbank Trio.
For 12 years Tom Mirhady was an instructor for Calgary's Suzuki Talent Education Society and he has been teaching at the Mount Royal University Conservatory since 1999.
JEFFREY PLOTNICK    violin
A native of Dayton, Ohio, Mr. Plotnick recently retired after completing his thirtieth season as Principal Second Violin with the Calgary Philharmonic Orchestra.  After graduating from the University of Cincinnati's College-Conservatory of Music, Mr. Plotnick performed with orchestras in Cincinnati, Ohio; Louisville, Kentucky; and Caracas, Venezuela before assuming his position in Calgary.
In addition to performing with the Calgary Philharmonic, Mr. Plotnick also served as concertmaster of the Calgary Bach Society and the Calgary Festival Chorus Orchestras.  Mr. Plotnick often appeared as violin soloist with the Calgary Philharmonic as well as the Calgary Bach Society, and has been heard in frequent performances as a solo and chamber recitalist. In October of 1998, Mr. Plotnick participated in a cultural mission to Kazakhstan, which included solo performances for its President.
Mr. Plotnick has been a member of the faculties of the University of Calgary, Mt. Royal College and the Amici String program in Calgary, and was the founding director and conductor of Mt. Royal's Intermediate String Orchestra. In addition, Mr. Plotnick has been a faculty member of the Banff International Youth Orchestra Festival, the Valhalla, Nelson, Strings and Keys and the Los Angeles Suzuki summer music institutes, and has appeared as guest artist and clinician at Lehigh University in Bethlehem, Pennsylvania.  He is currently in demand as a string adjudicator at numerous music festivals as well.
THERESA PLOTNICK  violin & viola
Theresa Plotnick is a pedagogue and performer originally from Dayton, Ohio, Ms. Plotnick earned a music degree at the University of Cincinnati Conservatory of Music and played professionally in orchestras in Dayton and Cincinnati, Ohio; Caracas, Venezuela; and Erie, Pennsylvania before moving to Calgary.
Ms. Plotnick has performed frequently as a freelance violist with such groups as the Calgary Philharmonic Orchestra, Red Deer Symphony, and other Calgary ensembles, and is a founding and current member of the Allegro String Quartet.
Theresa taught formerly for the Suzuki Talent Education Society of Calgary and for the Academy program at Mount Royal College. She is a frequent clinician and adjudicator at workshops, summer programs, and festivals. In 2007 Theresa co-founded the Amici String Program where she continues to coach and teach. She also maintains a large private violin and viola studio.
ANDREA POON  viola
Began violin studies at the Mount Royal Conservatory at the age of 5 with Fiona Carnie. During her time with Mount Royal she spent 8 years attending the Academy Program, where she first discovered the viola. Since then, Andrea has received her Bachelor of Music with honours from the University of Toronto with Katharine Rapoport, and Master of Music as well as a Pre-Doctorate Diploma (D.E.P.A) from the University of Montreal with Jutta Puchammer-Sédillot. As an avid ensemble musician, Andrea has been very fortunate to perform in several ensembles throughout Canada and Europe.
RONELLE SCHAUFELE    viola
Canadian violist Ronelle Schaufele is an active solo, chamber, and orchestral musician who performs frequently throughout Western Canada as well as performances in Cuba, Brazil, United States, New Zealand, and Europe. As an avid lover of new music Ms. Schaufele has been delighted to play works composed for her and looks forward to upcoming collaborations. In addition to performing music being create today, Ronelle greatly enjoys performing on period instruments and exploring the rich baroque tradition.
In addition she has served as principal violist for the Urban Village Chamber Orchestra, and is currently assistant principal violist in the Red Deer Symphony Orchestra.
Her education includes a Music Performance Diploma from Mount Royal College with William van der Sloot, a Bachelor of Music with distinction from the University of Calgary, with Nicholas Pulos and an Artistic Diploma at The Glenn Gould School studying with Steven Dann. An active instructor, Ronelle is currently on faculty at the Amici String Program. Ronelle was recently the Artistic Advisor for the Szekely/Rolston Young Musicians Program in cooperation with the Banff International String Quartet Competition.
In the Fall of 2012 Ms. Schaufele founded the Banff String Academy of Music which offers gifted young students in the Banff area advanced musical instruction.
HYEJEONG (HAZEL) SEONG   collaborative artist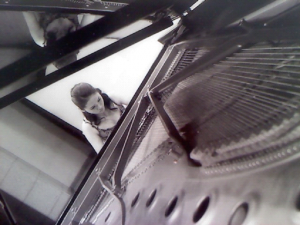 Hyejeong Seong began studying piano in South Korea at the age of four and made her debut at the age of six. She received a Bachelor of Music Degree in Piano Performance from the Kyoung-won University at South Korea and a Master of Music Degree from the Cleveland Institute of Music. While earning her Bachelor and Master of Music degree, she received many scholarships. In Korea, Hyejeong  Seong won the 1st prize at the 1990 National Instrumental Music Competition, and also received the 1st prize at the Kyoung-hyang National News Piano Competition in 1992. She was the 1st prize winner at the Dae-Jeon Art High School Competition in 1997 and was given a three year scholarship. In May of that same year, Hyejeong Seong won the Choong-Nam Philharmonic Orchestra competition and performed Beethoven's Piano Concerto No.3 with the Choong-Nam Philharmonic Orchestra.
Hyejeong has performed as a soloist in numerous locations such as Cleveland, Columbus, Germany, and Seoul. She has enjoyed a career that has given her the opportunity to perform in solo and chamber recitals. While studying in South Korea, Hyejeong collaborated with numerous graduate students for their recitals. She also performed in a Mozart Piano Duo recital. At the Cleveland Institute of Music, Hyejeong performed in concerts featuring the sonatas of Beethoven and Mozart. In addition to these performances, Hyejeong has attended master classes led by famous artists such as Klaus Schilde, Patrick O'Byrn and Yonghee-Moon.
Hyejeong Seong was working towards her Doctor of Musical Arts degree in Piano Performance and Pedagogy at the University of Iowa. She was a student of Dr. Uriel Tsachor and was awarded a TA position and scholarship to attend the University. In 2008, she had the pleasure of being a part of the performance of the Butterfly Lovers Concerto for Erhu at West High School. She was also chosen to perform at Piano Sundays, a concert for both faculty and students in 2009. Before arriving in West Virginia University, in 2011-2012, she joined a private music institute as a member of the faculty. From 2012 to 2014, She attended West Virginia University for her doctor of musical arts on a scholarship and now is a doctoral candidate with interests in both piano performance and chamber music.
BARBARA SMITH  violin
Barbara Smith has enjoyed a life full of music training. She was the first person to complete a double major, music diploma, in violin and voice, from Mount Royal University. She continued her education in Toronto at the Glenn Gould School of the Royal Conservatory of Music, and there completed a Bachelor of Music and an Artist Diploma of Music in Violin Performance under the tutelage of Erica Raum. Barbara has also studied numerous times at the Banff center.
Mrs. Smith has performed professionally throughout Canada in many ensembles including, the Canadian Opera Company, Kitchener-Waterloo Symphony, Red Deer Symphony, and the Calgary Philharmonic Orchestra. She continues to freelance and perform regularly with many groups including as a founding member of the Black Dress String Quartet.
Barbara is thrilled to share the gift of music. She has had an active violin studio for 20 years and is a certified Suzuki and Kodaly instructor. Barbara enjoys teaching students of all ages, but in recent years has focused her teaching on young children. She currently teaches in the Amicini section of the Amici String Program and as a Kodaly instructor at Mount Royal University, as well as maintaining her private studio.
Barbara has four young children that cannot escape her constant music making.
KEIKO TAKAHASHI    violin, Music librarian
A sense of adventure and the lure of the magnificent Rocky Mountains brought Keiko Takahashi to Calgary as a young graduate of the Toho Gakuen University of Music in Tokyo. She was trained in the European-style and did not encounter the Suzuki philosophy until she was invited by Linda Case to join the Suzuki Talent Education Society in 1978. She taught in this program for seventeen years and also acted as its chief administrator during her tenure as Acting Director.
Enrolling in the Junior Philharmonic Orchestra in Japan at age 12 changed her life. She loved orchestral playing and wanted to play in a professional orchestra. Years late her dreams were realized when she was recruited into the first violin section of the Calgary Philharmonic Orchestra and made the first of several moves to Calgary. She has since become a busy freelance violinist in demand with many performing organizations including the CPO, Royal Winnipeg Ballet Orchestra and the Red Deer Symphony. She also performs in various chamber ensembles, musical and theatre groups throughout Canada, United States and Japan. Her large private studio of violin and viola students embodies an adapted Suzuki method. She introduces note reading and scales early, includes duet and chamber music and stresses the individuality of each student.
Her philosophy is all-inclusive: If a child likes to play, she is happy to help develop either playing sills. Her motto: "Do your best".
In the Amici String Program, aside from teaching and coaching, Ms. Takahashi has also taken on the responsibility of musk librarian.