2019 Summer Faculty
Amici faculty members – Fiona Carnie, Diane Lane, Tom Mirhady, Jeffrey Plotnick, Theresa Plotnick, Olena Kilchyk, Ronelle Schaufele-Boehm, Keiko Takahashi, Eva Hordos and Leila Linton – welcome local and guest performers for Amici String Camp and Calgary Stringfest.
ANDREA CASE  cellist
Cellist Andrea Case has a Master's Degree in cello performance from McGill University where she studied on scholarship with Antonio Lysy. She spent her childhood in Calgary where she studied with John Kadz at the Mount Royal Conservatory. She made her solo debut with The Calgary Civic Symphony in 1997 after winning the Calgary Concert Competition. Andrea is co-founder and cellist of the Lily String Quartet, a group that has completed multiple tours across Canada, has performed for CBC Radio 2 and will soon release their recently recorded jazz CD with the award-winning Hutchinson Andrew Trio. As well as being an avid chamber musician, Andrea is sought after as an orchestral
musician, coach, recording artist and teacher. Andrea has played with orchestras in Europe, Japan, California, Quebec and Alberta. She can be heard on numerous recordings in multiple genres including pop/folk (Magnolia Buckskin, Jerry Brody, Heather Blush and the Uppercuts, Johanna Drummond), jazz (Hutchinson Andrew Trio/Lily String Quartet, Karl Schwonik) and classical (John Goulart, Michael Ibrahim). She has 15 years of teaching and coaching experience from Mount Royal Conservatory, Amici String Program and Chinook School of Music, all in Calgary, and the Lippert School of Music in Toronto. Andrea adjudicates regularly at festivals throughout Alberta and British Columbia, and teaches at the Amici summer programs. Andrea currently resides in Calgary with her husband, jazz drummer Karl Schwonik and their sons.
CATHERINE ORDRONNEU piano & KAI GLEUSTEEN violin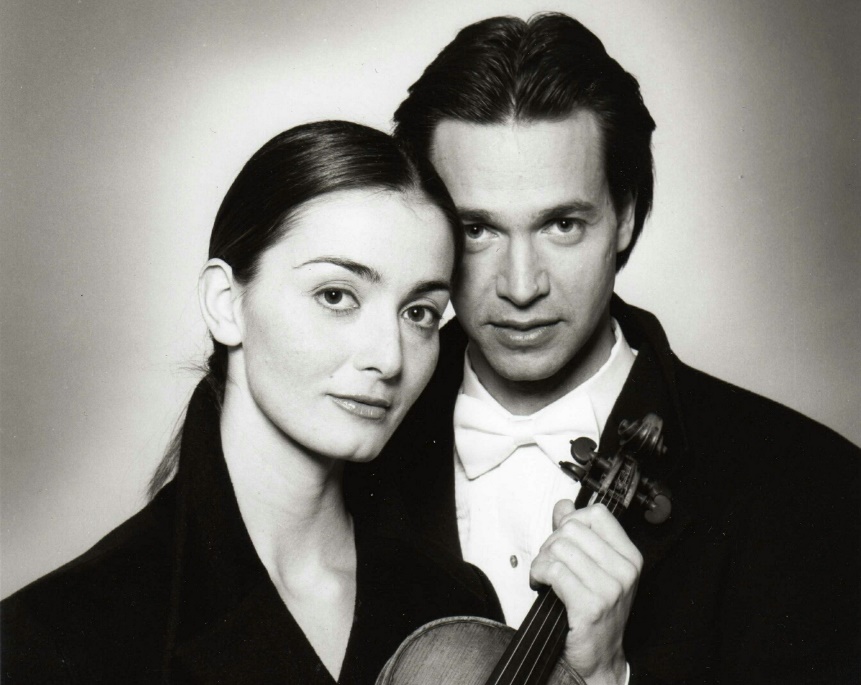 Catherine Ordronneau performed her first recital at the age of twelve and it wasn't until the age of twenty, after two years of law school, that she decided to devote herself entirely to music. She received the highest distinction at the Conservatory in Rouen and later the prestigious Concert Award at the Ecole Normale Alfred Cortot in Paris. She devotes a large part of her time to the duo with Kai Gleusteen and the Trio Liceu.
Violinist Kai Gleusteen studied violin from the age of five in his native city, Calgary. By the age of seventeen, Kai was awarded the top prize in the Commonwealth Concerto Competition in Australia and the prestigious Skene Award in Scotland. Kai is the concertmaster of the Orchestra 'del Gran Teatre del Liceu' in Barcelona, where he is also Professor at the Escuela Superior de Musica de Catalunya. He continues to perform extensively as a soloist in Europe and North America and has released numerous critically acclaimed recordings. 

ANDREA NEUMANN violin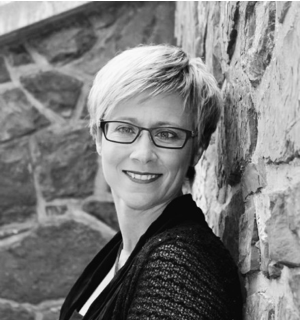 Andrea Neumann's performances have been described as "a perfect study in poetic embodiment" and having "a commanding, flawless execution" (Calgary Herald, 2014). Andrea received her Bachelor of Music degree in Violin Performance from the University of Toronto and her Masters in Chamber Music Performance from the San Francisco Conservatory of Music.  In 1999, Andrea had the pleasure of playing a recital on the legendary Heifetz Guarneri del Gesù violin at the Palace of the Legion of Honor in San Francisco. She toured with the San Francisco based New Century Chamber Orchestra and was also a member of the Santa Rosa Symphony. Andrea was violinist and violist with Calgary's Land's End Ensemble for five years, and released two CD's with the Ensemble. In 2012 she appeared as a soloist with the Calgary Philharmonic Orchestra in Vivaldi's Four Seasons. Andrea was an Artist in Residence at The Banff Centre in 2013, which culminated in a tour of Canada with soprano Stacie Dunlop. Their performances of György Kurtág's Kafka Fragmentsgarnered critical acclaim. Her violin and piano ensemble, the Vermilion Duo, has been concertizing and teaching across western Canada for the past six years. While maintaining her teaching studio, Andrea performs with ensembles including the Calgary Philharmonic Orchestra, the Red Deer Symphony, Calgary Girls Choir, Luminous Voices, Early Music Voices, Spiritus Chamber Choir, and Rosa Barocca. Andrea is Co-Artistic Director and Co-Founder of String Theory Music Collective, a Calgary based early music ensemble created in 2017. She plays a modern Hungarian violin by Bence Holló, made in 2002, and a Baroque violin by Warren Ellison of Jericho Center, Vermont, made in 1999.
BETH ROOT SANDVOSS cellist
Cellist Beth Root Sandvoss has a notably varied career as a recitalist, chamber musician and pedagogue. Beth's early professional activities took her to Hong Kong, where she became a member of the Hong Kong Philharmonic Orchestra as well as the Victoria String Quartet, performing throughout Asia.  After completing undergraduate studies at the University of Wisconsin, Madison with cellist Parry Karp, Beth finished graduate work at the Cleveland Institute of Music as well as further studies in San Francisco. Beth settled in Calgary, Alberta where she enjoys an active performance career in Canada and abroad. Beth has recorded six commercial CDs and has premiered more than 50 new works for solo cello, cello/piano and chamber ensemble.
Beth has an intense interest in new music and is a founding member of the acclaimed Land's End Ensemble, whose most recent Centrediscs release, Gravity and Grace, won a Juno Award and a Western Canadian Music Award in the category of Classical Composition of the year (2014) for the work Field Notes by Allan Gordon Bell. In addition to her Land's End Ensemble activities, Beth is a member of the UCalgary String Quartet in residence at the University of Calgary.  Nominated as Instrumental Group of the Year, the UCalgary String Quartet has completed live recordings of all the Beethoven String Quartets as well as the CD Far Behind I left My Country which features Klezmer and East European Folk Music.
Along with her performance career, Beth is a very dedicated pedagogue. As a sought after clinician she has worked with both teachers and students on her methods. Her pupils have won numerous competitions in Canada and are regularly invited to summer festivals around the world.  Beth's students have continued on as scholarship students to major universities and conservatories such as New England Conservatory, Mannes College of Music and the Juilliard School.  She is a faculty member at Mount Royal University as well as the University of Calgary and spends her summers teaching and performing at music festivals throughout Canada and the United States.  Beth has the great pleasure and privilege to perform on an award – winning cello made by her husband, Luthier, Christopher Sandvoss.
"The performance brought out its depth of passion….Beth Root Sandvoss has a beautiful sound, coupled with an excellent sense of harmony—" Gordon Rumson, Music and Vision
DANIEL SCHOLZ  viola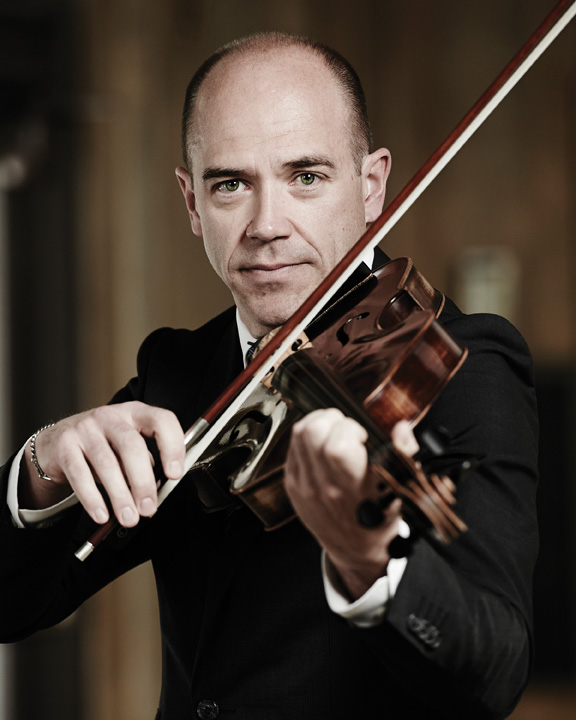 Daniel Scholz is the Principal Viola of the Winnipeg Symphony Orchestra and the Manitoba Chamber Orchestra. As a solo artist, Daniel has performed concertos with numerous orchestras. Daniel has also toured Europe with the Nordic Symphony as Guest Principal Viola. Highly sought after as an instructor, Daniel Scholz teaches at the University of Manitoba and is the conductor of the Winnipeg Youth Symphony Orchestra.
LOUISE STUPPARD  violin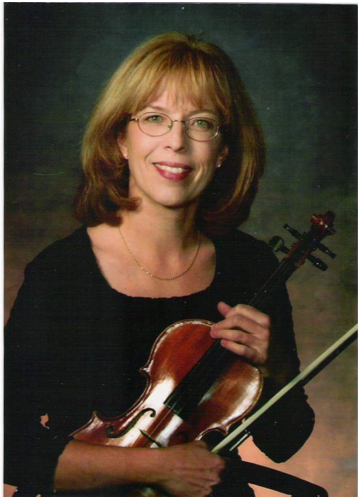 Louise Stuppard began her violin studies at an early age, growing up in a musical family. She won many awards at local and provincial music festivals and at age 17 was a member of the National Youth Orchestra of Canada. Louise attended the University of Regina, University of Calgary and received a Master of Music in Performance from Towson University in Baltimore, Maryland.
Ms. Stuppard has a wealth of performing experience both in Canada and the USA as a soloist, chamber and orchestral musician and is currently Principal Second Violin of the Red Deer Symphony Orchestra.
Louise has a strong interest in early music and has been involved in early music projects with Red Deer Symphony, Early Music Voices, Spiritus Choir and Early Music Alberta. . Louise is also a member of the Rosa Barocca and is a founding director of Calgary's newest historical performance ensemble, String Theory Music Collective.
In addition to being a performing freelance violinist, Louise maintains a busy private teaching studio.  From 2007-2016, she was the Music Director for the Red Deer Community and Youth Orchestra.  Louise was honored to be chosen as a recipient of the 2018 Red Deer Women of Excellence Awards in Arts, Culture and Heritage.