2019 – 2020 Guest Artists
JOAN E BARRETT violin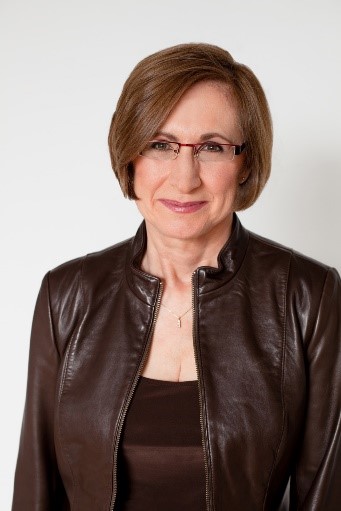 Canadian violinist Joan Barrett has a wealth of experience as performer, teacher, adjudicator and coach. Her performing experience includes chamber music, solo recitals and performances with orchestra in addition to serving as Principal, Calgary Philharmonic Orchestra, Assistant Concert Master, Stratford Festival Orchestra, and member of Kensington Sinfonia.
Prior to leaving Calgary for Toronto, Joan Barrett was deeply involved in the founding of the Academy program at MRU's Conservatory where she taught violin, chamber music and conducted one of the orchestras. A recipient of Mount Royal University's Distinguished Teaching Award, her students have been competition winners at the national level and are active professionally.
Raised in Ontario and furthering her education at Indiana University, Joan Barrett is grateful to have been taught and mentored by outstanding teachers and musicians such as Josef Gingold, David Zafer, Paul Rolland, Ivan Galamian and Ruggiero Ricci. Subsequently she has been influenced by the work of Moshe Feldenkrais, M.F. Alexander, Carol Ann Erickson and Andover Educators (Bodymapping.)
A passionate educator, Ms. Barrett has taught at University of Toronto, The Royal Conservatory, as well as being the first String Co-ordinator of its Young Artists Performance Academy. In 2012 she was the Artistic Consultant in the creation of nine recordings to accompany The Royal Conservatory's new Violin Series publications.
An accredited professional coach (OISE/Adler), Joan Barrett also has a successful coaching practice working with leaders, professionals in the arts and students to address challenges with performing, and career and life transitions. She currently teaches privately, is an Academy Coach at MRU Conservatory, teaches violin and chamber music at University of Calgary and is most pleased to be, once again, returning to work at Amici with its enthusiastic students and dedicated teachers.
RUNE BERGMANN music director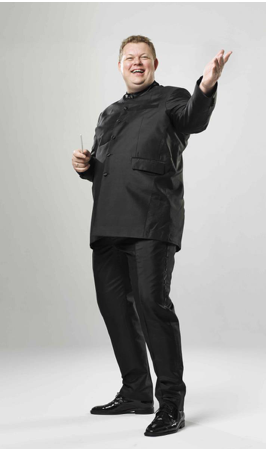 Rune Bergmann is the Calgary Philharmonic Music Director and Artistic Director and Principal Conductor of the Szczecin Philharmonic in Poland.
An energetic and compelling figure on the podium, Norwegian conductor Rune Bergmann (pronounced Rue-na Bairg-mahn) is a dynamic, versatile conductor with an extensive classical, romantic, operatic and contemporary repertoire.  Considered among today's most talented young Scandinavian conductors, his elegant interpretations and reputation as an inspiring and profound musician continue to attract the attention of orchestras throughout the world.
Principal guest conductor of Lithuania's Kaunas City Symphony Orchestra since 2013, and artistic director of Norway's innovative Fjord Cadenza Festival since its inception in 2010,  among the distinguished orchestras and opera houses abroad with which Maestro Bergmann has developed relationships are the Oslo Philharmonic Orchestra, Norwegian National Opera, Mainfranken Theater Würzburg, and Philharmonie Südwestfalen, as well as the symphony orchestras of Malmö, Helsingborg, Bergen, Kristiansand, Stavanger, Trondheim, Karlskrona, and Odense, and Lisbon's Orquestra Sinfonica Portuguesa. In North America, he has guested with such orchestras as the Alabama Symphony Orchestra (where he led the world premiere of Grawemeyer Award-winning Serbian composer Djuro Zivkovic's Psalm XIII), Detroit, Grand Rapids, and Houston Symphony Orchestras, the Calgary and New Mexico Philharmonics, and the Brevard Music Festival.
A multi-talented musician who also plays trumpet, piano, and violin/viola, Rune Bergmann studied choir and orchestral conducting under Anders Eby, Jin Wang and Jorma Panula at Sweden's Royal College of Music. He graduated with high honours from the Sibelius Academy in Helsinki, Finland, where he studied conducting under Chief Conductor Emeritus of the Helsinki Philharmonic Orchestra/former principal conductor of the Vienna Radio, Finnish Radio, and Danish National symphony orchestras, Leif Segerstam. Honours include the 2010 Kjell Holm Foundation Culture Prize, the 2009 SMP Press culture award, and second prize in Helsingborg's 2002 Nordic Conducting Competition. Maestro Bergmann's former posts include deputy – General Musik Direktor with the Augsburger Philharmoniker and Theater Augsburg in Germany.
MARGARET CAREY viola, violin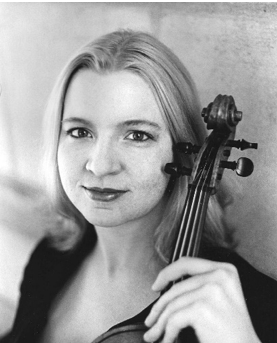 Violist, Violinist and Singer Margaret Carey began her musical studies at the age of four, studying the violin, piano and voice before starting the viola. She is a DMA graduate (2014) from the University of Montreal with Professor Jutta Puchhammer-Sedillot, and has obtained her Artist Diploma (2008) and MM degree (2007) at the Yale School of Music with Professor Jesse Levine. She has also studied with Bruno Giuranna, Roger Chase, Gerald Stanick and Nick Pulos.
Margaret has been a member of various chamber orchestras, chamber ensembles, symphonies and choirs worldwide. She also has more than ten years of experience teaching a variety of students of differing abilities, has been a guest artist at various festivals in Europe and North America and has participated in well-known festivals such as the Verbier Festival in Switzerland, the Mozarteum in Austria, the Schleswig Holstein Music Festival in Germany, the Orford Arts Centre and the Banff Centre in Canada, to name a few.
Margaret was a winner of the 2009 Yale Woolsey Hall Concerto Competition, performing the Bartok Viola Concerto with the Yale Philharmonia Orchestra with Peter Oundjian. She was also a first prize winner of the 2010 Alexander & Buono International String Competition, and Canadian Music Competition (CMC) at the 2006 International Viola Congress in Montreal, the Grand prize winner of the VSO Burnaby Clef Competition in 2002, and the youngest competitor to win the CBC Debut Series Competition 2002. She is a recipient of the Johann Strauss Foundation Scholarship, two Alberta Foundation for the Arts grants for research purposes, a Winnipeg Arts Council grant and a Canada Council for the Arts Individual Artist grant.
JANET KUSCHAK violoncello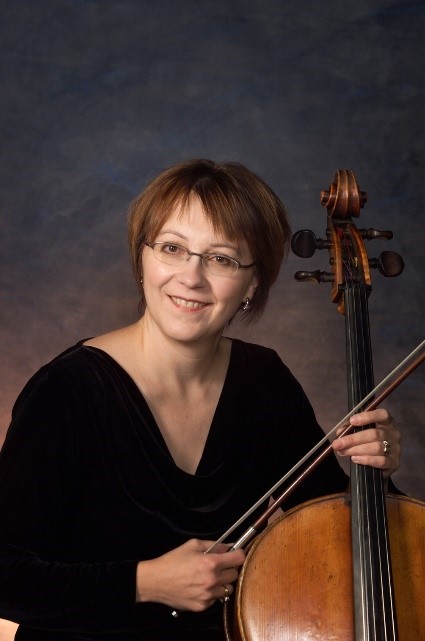 Cellist Janet Kuschak, an accomplished orchestral and chamber musician, has been a tenured member of the Canadian Opera Company Orchestra, the National Ballet of Canada Orchestra and was a founding member of Toronto's Esprit Orchestra. She has performed in the cello sections of some of Canada's most distinguished orchestras including the National Arts Centre Orchestra, the Calgary Philharmonic Orchestra, the Edmonton Symphony Orchestra, Symphony Nova Scotia, Hamilton Philharmonic, Te Deum in Hamilton, Kensington Sinfonia, and was invited as guest principal with the Saskatoon Symphony. Ms. Kuschak also frequently performs on baroque cello, an added skill that has led her to collaborate with various early music groups such as Spiritus Chamber Choir, Early Music Voices, Rosa Barocca and Early Music Alberta. She currently holds the position of principal cellist of the Red Deer Symphony Orchestra.
Ms. Kuschak has in the past taught at the Toronto Waldorf School and, with Suzuki certification, the Calgary Talent Education Society. Ms. Kuschak has her own teaching studio in Red Deer. Her students enjoy performing solo recitals and cello ensembles. She is a sought-after adjudicator and clinician, having been invited to adjudicate at the Hong Kong Schools Music Festival on three occasions and nationally with her last posts in Ottawa and Calgary.
Born in Toronto, Ms. Kuschak began cello studies at the age of 11. She is the recipient of a Bachelor of Music in Performance from the University of Toronto, where she studied with Vladimir Orloff (former principal of the Vienna Philharmonic) and Daniel Domb (former principal of the Toronto Symphony), and at the Banff School of Fine Arts with Janos Starker, Tsuyoshi Tsutsumi and Aldo Parisot.
MEGAN&AMY
MEGAN MILATZ AND AMY HOLLIS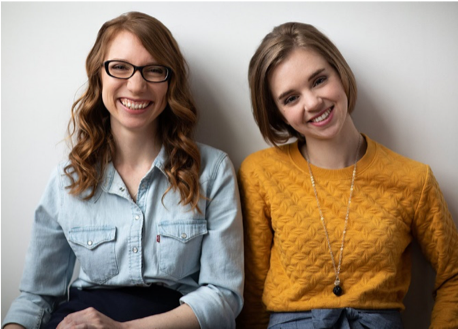 MEGAN&AMY share an intense passion for interesting programming and fearless music-making. Selected the winner for a Pan-Canadian tour offered by Debut Atlantic, Jeunesses Musicales Canada, and Prairie Debut in 2019-2020, pianist Megan Milatz and violinist Amy Hillis, who formed this musical union in 2011, will share with audiences across Canada a unique program that reflects their Saskatchewan origins, their Montreal studies, their international musical experiences, and connect them with music that has inspired them along the way. MEGAN&AMY will program works by the celebrated European masters and pair them with works by composers across Canada. These composers who have a connection to their home, their studies, and their Canadian travels. This tour, Road Trip! A Pan-Canadian Partnership, will not only be a partnership of the touring networks, but a partnership of composers, and a partnership of artistic excellence.
NICK PULOS violoncello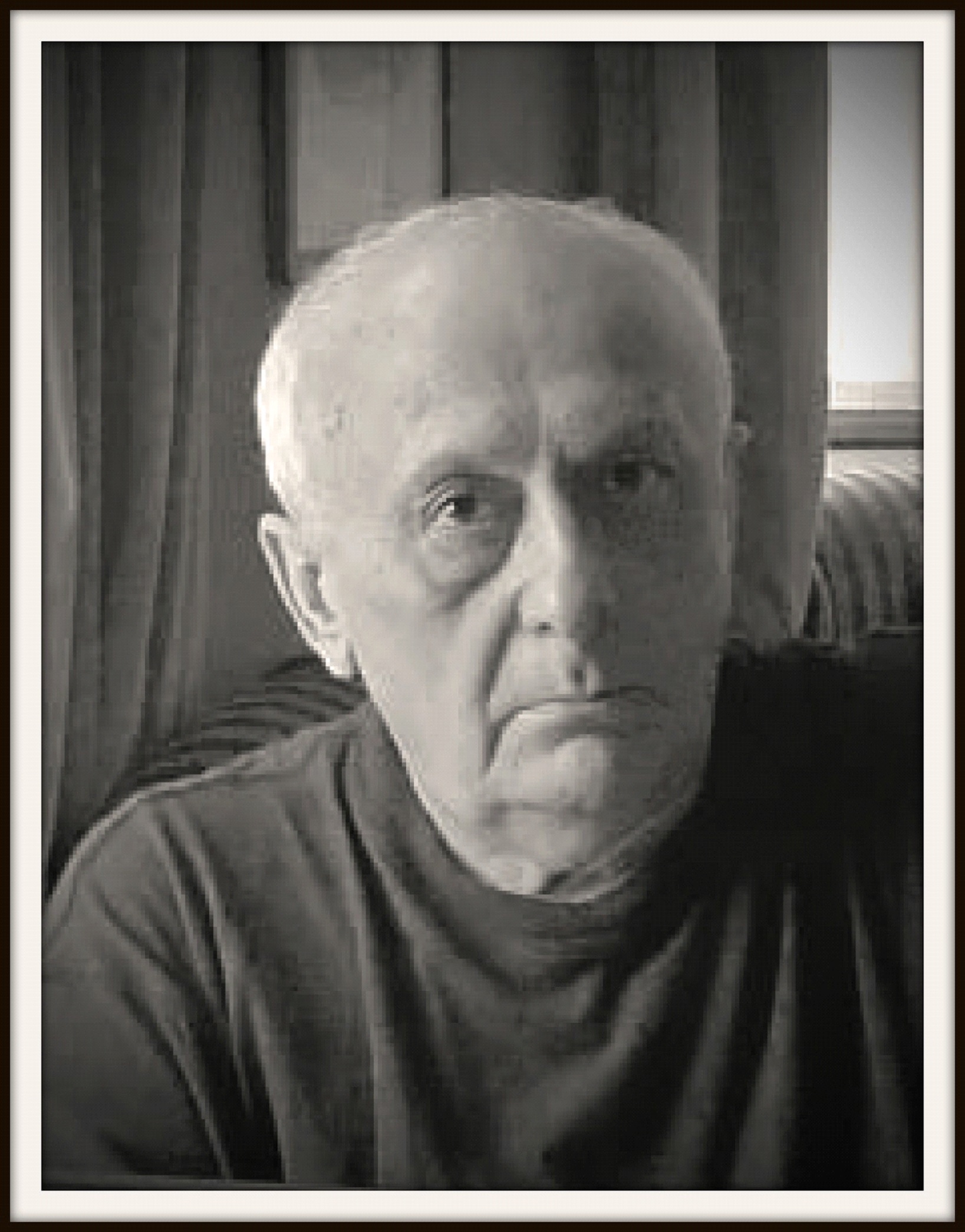 Nick Pulos (B. Mus., M.Mus.)  was born in Calgary. His principal teachers were Ranald Shean, Tom Rolston, Frederick Grinke (RAM London) and Stephen Kondaks.  He also worked with William Primrose, Denes Koromzay, Cecil Aronowitz and Peter Schidloff.
A founding member of the National Arts Centre Orchestra, Mr. Pulos has played with the Edmonton Symphony (principal violist & guest soloist), Royal Philharmonic, Welsh Philharmonia, Swiss Radio Orchestra, and Calgary Philharmonic.  For several years, he was principal second violin of the Alberta Baroque Ensemble and has appeared as violist and violinist with numerous chamber ensembles throughout Alberta, B.C., and in England and Switzerland. With the Edmonton Symphony he performed solo works by Walton, Berlioz, Handel-Casadesus, Mozart, Strauss, Telemann, Hummel and Malcolm Arnold. A North American premiere, the Arnold Concerto was broadcast nationally by the CBC.
Besides teaching violin and viola, Mr. Pulos coaches chamber music and conducts. He is a past music director of the Calgary Youth Orchestra, leading the orchestra on three international tours. While conductor of MRU's Conservatory Strings, the orchestra recorded 2 full-length CDs and performed Benjamin Britten's children's opera, Noyes's Fludde for the CBC. He initiated the orchestral component of Morningside Music Bridge of which he was a faculty member for more than 10 years.
His students have gone on to study at the Royal Conservatory of The Hague, Glenn Gould Professional School, Julliard, McGill, Oberlin Conservatory, Rice University, University of Michigan, and the Vancouver Academy. Three have been chosen principal violists of the National Youth Orchestra.
Married with two daughters, his wife Lila is a former Edmonton and Calgary public school teacher; Eloise is a technical editor in Calgary; Elizabeth is a compliance specialist in NYC. The Pulos family have five cats.
DONOVAN SEIDLE  violin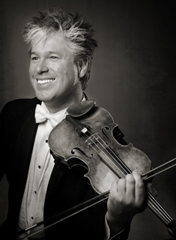 Donovan Seidle is a versatile musician, working steadily as composer, arranger, orchestrator, violinist, teacher and coach.
He holds a BMus in Performance and Composition from the University of Calgary (studio of Edmond Agopian, violin; and William Jordan, composition) and a MMus in Performance from Northwestern University (Roland and Almita Vamos, violin).
Since 2003, he has served as one of the three concertmasters of the Calgary Philharmonic Orchestra, which has included soloing and new works commissions. He is an active participant in the city's artistic community, working regularly in chamber ensembles and multi-disciplinary projects outside of the orchestra, including having directed Calgary's own Kensington Sinfonia for 13 years. He travels to contribute with the I Musici Chamber Orchestra of Montreal, and Vancouver Symphony Orchestra, among others. His past projects have included the inaugural YouTube Symphony Orchestra project at Carnegie Hall, the Opening and Closing Ceremonies of the Vancouver 2010 Olympic Winter Games, and the Aspen Contemporary Ensemble; amongst numerous recording sessions, summer festivals and guest-solo spots locally and internationally.
Donovan is a commissioned composer/arranger writing for various media, including for the concert stage, television and film, live theatre, orchestra shows, and interactive media (games and VR); and he spent his 09/10 sabbatical from the Philharmonic as Associate Music Director for the Emmy Award-winning ceremonies of the Vancouver 2010 Olympic Winter Games. Since then, he has written for such production shows as the 2011 Pan-Arabian Games in Qatar, and the Guinness Record-breaking projection show at the 2011 Moscow City Day. He held a 5-year commissioning contract with the GlobalFest International Fireworks Festival, for supplying the 'required piece' each international team must incorporate into their presentation. Most recently, he has returned from a sabbatical over 2017/18 where he was exploring interactive and video-game music projects in Vancouver.
DANIEL SCHOLZ viola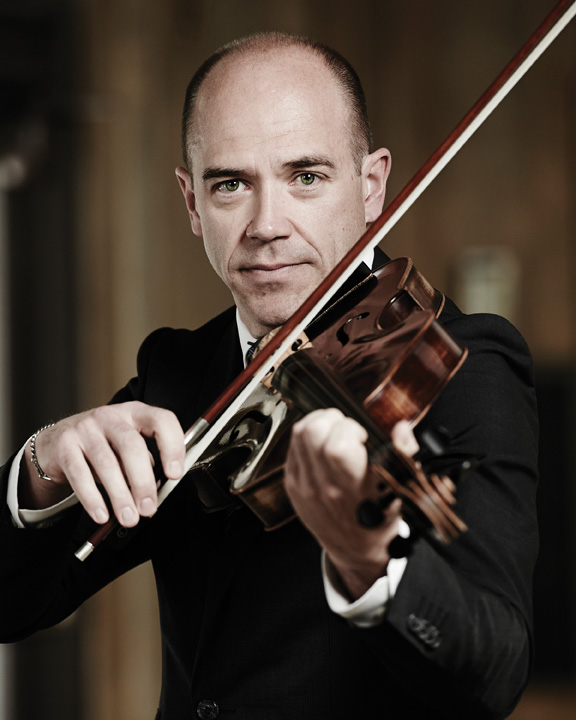 Originally from Regina, Daniel studied at the University of Regina, McGill University and at the University of British Columbia. He was a prize winner at the Lionel Tertis Viola Competition, the most prestigious event of its kind, held on the Isle of Mann. Daniel is the Principal Viola of the Winnipeg Symphony Orchestra and the Manitoba Chamber Orchestra, and is a member of the Winnipeg Chamber Music Society, and the Rembrandt String Quartet. As a solo artist, Daniel has performed with the Winnipeg Symphony Orchestra, the Manitoba Chamber Orchestra, Musickbarock, the Okanagan Symphony and the Vancouver Chamber Players. Daniel has also toured Europe with the Nordic Symphony of Tallinn, Estonia as Guest Principal Viola.
Daniel is an instructor at the Marcel A. Desautels Faculty of Music at the University of Manitoba as well as the conductor of the Winnipeg Youth Symphony Orchestra. Daniel also adjudicates for many of Canada's major music festivals. He has performed and taught at many of Canada's major festivals and is a faculty member of the National Youth Orchestra of Canada, Rosamunde Summer Academy in Winnipeg and the Amici Summer Strings in Calgary. Daniel was also invited to perform and teach in Perth, Australia by the Australian String Teachers Association and the West Australian and New Zealand Viola Society. Daniel plays on a contemporary viola made by Garth Lee of Winnipeg.
JOHN THOMPSON viola
John has recently retired after serving as Principal Viola in the Calgary Philharmonic Orchestra for forty-three seasons. During that time, he was an active performer as a soloist, chamber musician, appearing with the orchestra and visiting artists on many occasions. He has always had an enthusiasm for working with youth, as a teacher at the Mount Royal University Conservatory and the University of Calgary and as a conductor with the Calgary Youth Orchestra and the Conservatory Strings and as a chamber music coach in the Academy programme at MRUC. Many of his students have received honors at local, provincial and national competitions and a number of his students may be found performing with professional orchestras across North America. John is regularly invited to adjudicate across Canada and continues to be active as a violist in a variety of settings. He has been honored with an Alberta Achievement Award and a Distinguished Teaching Award from Mount Royal University for his services to young musicians.
TRIO SAINT-LAURENT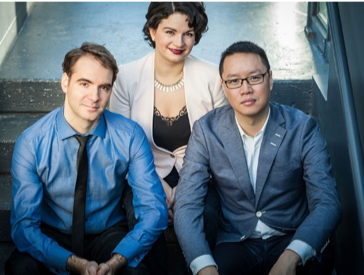 Three of Canada's most respected chamber musicians, clarinetist Jean-François Normand, violist Marina Thibeault, and pianist Philip Chiu, gather in this unique and compelling formation to form Trio Saint-Laurent. Complementing the warm and hauntingly beautiful colours from the existing repertoire for this formation, Trio Saint-Laurent reveals their fiery and passionate personalities with original transcriptions and new commissions.
SHARON WEI viola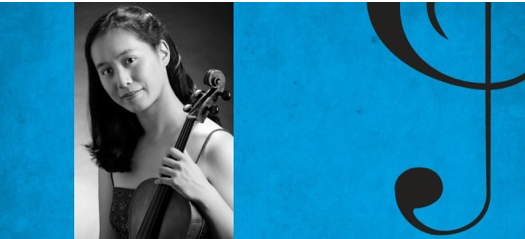 Sharon Wei is a dynamic and varied musician, establishing herself as one of the most respected violists on the scene today. She has appeared as soloist, chamber musician, and guest principal violist throughout North America and Europe.  She has collaborated with conductors such as James Levine, Kent Nagano, Paavo Järvi, Zubin Mehta, Jean Christophe Spinosi and Yuri Termirkanov, and she has been guest principal violist of the Cincinnati Symphony, Canadian Opera Company Orchestra, and Ensemble Matheus in France.  Sharon has also shared the stage with Lynn Harrell, Gary Hoffman, Lawrence Lesser, Peter Frankl, Joseph Silverstein, Jonathan Crow, Mark Fewer, Joel Quarrington, James Campbell, James Sommerville and the Amernet and St. Lawrence String Quartet.  Recent appearances with orchestra include concertos with the San Francisco Chamber Orchestra, Sinfonia Toronto, Kitchener-Waterloo Chamber Orchestra, Orchestra of Southern Utah and the New Music Ensemble at the University of Texas Austin.  Sharon has performed at festivals such as Verbier in Switzerland, Prussia Cove, Bay Chamber in Maine, Marlboro, Norfolk, Banff, Ravinia, Musique de Chamber a Normandie in France, Chamberfest in Ottawa, Agassiz in Winnipeg, Summer Solstice in Edmonton and Tuckamore Festival in Newfoundland.
In 2006, Sharon and pianist Angela Park co-founded Ensemble Made in Canada, which includes violinist Elissa Lee and cellist Rachel Mercer. Ensemble Made in Canada performs in various configurations: sonatas, duos, and quartet repertoire.  The group has commissioned and premiered works by American composer John B. Hedges and Canadian composers John Burge and Christopher Mayo.  Upcoming commissions include works by Canadian composers David Myska and Omar Daniel.  EMIC began as Ensemble-in-Residence at Western University in 2014 coaching chamber music, orchestra sectionals, collaborative musicianship and working with student composers.  The ensemble has toured across Canada and given masterclasses and workshops at many universities and conservatories including University of Toronto, Brandon University, University of Manitoba, Vancouver Academy of Music and Laurier.  Sharon is also the violist in the Supernova String Quartet which is in residence at Scotia Festival in Halifax. Sharon has been the recipient of grants through the Canada Council for the Arts, Ontario Arts Council. She has toured under the auspices of both Debut Atlantic and Prairie Debut.
Sharon has given masterclasses throughout China, the US, and Canada.  She was on the faculty at Yale University and Stanford University and began her appointment as Assistant Professor of Viola at Western University in 2014.  At Western, she has designed a course for performance majors in which students learn important off-stage initiatives such as networking, grant writing, website design, and managing finances.
Past guest artists
Edmond Agopian, Aaron Au, Arthur Bachmann, Joan Barrett, Nigel Boehm, Martin Bonham, Cecilia Quartet, Christine Bootland, Arnold Choi, Danuta Ciring, Escher String Quartet, Mary Findlay, Judith Fraser, Laurent Grillet-Kim, Philip Hansen, Lawrie Hill, Lafayette String Quartet, Lily String Quartet, Yuri Hooker, John Kadz, Malcolm Lim, April Losey, John Lowry, Lysander Piano Trio, Thomas Megee, David Morrissey, New Orford String Quartet, Rob Penner (Calgary Philharmonic Orchestra), Players Ensemble, Ben Plotnick, Nick Pulos, Katharine Rapoport, Laura Reid, Rolston String Quartet, Beth Root Sandvoss, Daniel Scholz, Liza Scriggins, Marcin Swoboda,  Scott St. John, John Thompson, Ton Beau String Quartet, Josué Valdepeñas, Winnipeg Chamber Music Society, The Ying Quartet, Mimi Zweig
Past guest coaches
Colleen Athparia, Dorothy Bishop, Andrea Case, Vanessa Goymour, John Lowry, Kirill Kalmykoff, Steven Lubiarz, Thomas Megee, Andrea Neumann, Morag Northey, Dean O'Brien, Andrea Poon, Nick Pulos, Laura Reid, Nancy Russell, Anne Scott, Barbara Smith, Stephanie Soltice-Johnston, Louise Stuppard, Laurie Syer, Magdi Szebenyi, John Thompson, Diane Valentine, Karen Youngquist