2018 – 2019 Guest Artists
EDMOND AGOPIAN violin
Edmond Agopian's performances as violinist and conductor have received numerous accolades, including: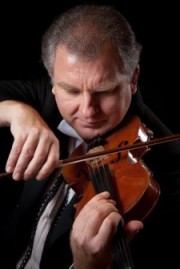 "His performance was a triumph both of technique and integration..." – Toronto Star
"…dramatic heart-felt playing with biting rhythmic emphasis. His pitch and tone were immaculate…"– Calgary Herald
"…he not only revealed the great charm of the work (Bruch, Violin Concerto in G minor), but his own musical integrity as well"– Halifax Chronicle Herald
"…the orchestra plays to the fullest, with enthusiasm and energy…imaginative interpretation…nicely pulled off…"– Sound Advice, CBC Radio
"The Canadian Chamber Orchestra, conducted by concertmaster Edmond Agopian played with requisite grace…." – Edmonton Journal
A violin graduate of the Juilliard School, Edmond Agopian began studying violin and conducting in his native Romania. In 1991 Mr. Agopian relinquished his post at Acadia University to take up positions as Professor and Conductor at the University of Calgary, and Artist-in-Residence at Mount Royal Conservatory. Since 2002 he has also been Music Director of the Calgary Youth Orchestra at Mount Royal Conservatory. He has been awarded the Calgary Arts Award and the Alberta Centennial Medal "in recognition of outstanding achievement and service to the people and province of Alberta". At the University of Calgary, he was awarded the John Peter Lee Roberts Distinguished Professorship in Fine Arts.
For thirteen seasons he was Music Director/Concertmaster of Calgary's professional string orchestra, the Kensington Sinfonia, and has been featured as conductor and violinist on CBC Radio, Radio Europa, Portuguese National Radio and Taiwan National Radio. Conducting work has included performances with the Canadian Chamber Orchestra (conductor and concertmaster), the Shanghai Opera Orchestra, the National Arts Centre Orchestra, the Polish Baltic Philharmonic Orchestra, and conductor and soloist with the Calgary Philharmonic Orchestra.
For twenty summers Mr. Agopian was on the faculty of the Morningside Music Bridge International Music Festival at Mount Royal Conservatory, in Beijing, Shanghai, and Gdansk, Poland.
His violin method The No Time to Practice Technique Companion has been on the SHAR Music Company's Bestseller List and has been positively reviewed in the American String Teacher magazine. His students have won local, national and international awards, including the Rose Bowl – Calgary Performing Arts Festival, and are members of major orchestras, including four violinists in the Calgary Philharmonic Orchestra.
JOAN BARRETT violin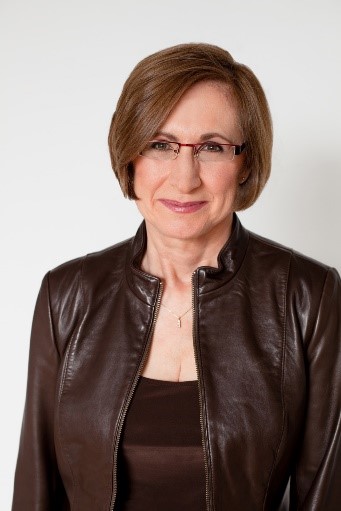 Canadian violinist Joan Barrett has a wealth of experience as performer, teacher, adjudicator and coach. Her performing experience includes chamber music, solo recitals and performances with orchestra in addition to serving as Principal, Calgary Philharmonic Orchestra, Assistant Concert Master, Stratford Festival Orchestra, and member of Kensington Sinfonia.
Prior to leaving Calgary for Toronto, Joan Barrett was deeply involved in the founding of the Academy program at MRU's Conservatory where she taught violin, chamber music and conducted one of the orchestras. A recipient of Mount Royal University's Distinguished Teaching Award, her students have been competition winners at the national level and are active professionally.
Raised in Ontario and furthering her education at Indiana University, Joan Barrett is grateful to have been taught and mentored by outstanding teachers and musicians such as Josef Gingold, David Zafer, Paul Rolland, Ivan Galamian and Ruggiero Ricci. Subsequently she has been influenced by the work of Moshe Feldenkrais, M.F. Alexander, Carol Ann Erickson and Andover Educators (Bodymapping.)
A passionate educator, Ms. Barrett has taught at University of Toronto, The Royal Conservatory, as well as being the first String Co-ordinator of its Young Artists Performance Academy. In 2012 she was the Artistic Consultant in the creation of nine recordings to accompany The Royal Conservatory's new Violin Series publications.
An accredited professional coach (OISE/Adler), Joan Barrett also has a successful coaching practice working with leaders, professionals in the arts and students to address challenges with performing, and career and life transitions. She currently teaches privately, is an Academy Coach at MRU Conservatory, teaches violin and chamber music at University of Calgary and is most pleased to be, once again, returning to work at Amici with its enthusiastic students and dedicated teachers.
LAURENT GRILLET-KIM viola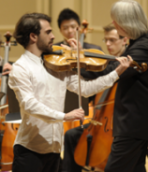 Laurent Grillet-Kim was born in Bordeaux, France where he started playing the violin at the age of 8. After graduating from the Bordeaux Conservatory he went on to study in Lyon and Boulogne-Billancourt for a short time before coming back to his native city and take private lessons with Prof. Micheline Lefebvre (violin) and Prof. Pierre Lefebvre (viola).
Before moving to the United States to study viola with Prof. Arad and Prof. DeVeritch, and violin with Prof. Agostini, Laurent worked on cruise ships and traveled around the world for 10 months.
While at Indiana University Mr. Grillet-Kim had the opportunity to play chamber music with the faculty members of the music school and was principal viola of the I.U Philharmonic orchestra and chamber orchestra. He also was part of the Kuttner quartet, the student resident quartet. Laurent was regularly invited to play with the Chicago symphony orchestra during his last year of studies.
He is now Principal viola of the Calgary Philharmonic Orchestra.
JANET KUSCHAK violoncello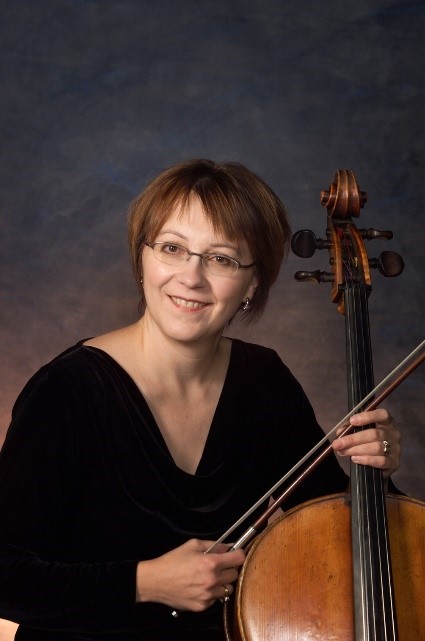 Cellist Janet Kuschak, an accomplished orchestral and chamber musician, has been a tenured member of the Canadian Opera Company Orchestra, the National Ballet of Canada Orchestra and was a founding member of Toronto's Esprit Orchestra. She has performed in the cello sections of some of Canada's most distinguished orchestras including the National Arts Centre Orchestra, the Calgary Philharmonic Orchestra, the Edmonton Symphony Orchestra, Symphony Nova Scotia, Hamilton Philharmonic, Te Deum in Hamilton, Kensington Sinfonia, and was invited as guest principal with the Saskatoon Symphony. Ms. Kuschak also frequently performs on baroque cello, an added skill that has led her to collaborate with various early music groups such as Spiritus Chamber Choir, Early Music Voices, Rosa Barocca and Early Music Alberta. She currently holds the position of principal cellist of the Red Deer Symphony Orchestra.
Ms. Kuschak has in the past taught at the Toronto Waldorf School and, with Suzuki certification, the Calgary Talent Education Society. Ms. Kuschak has her own teaching studio in Red Deer. Her students enjoy performing solo recitals and cello ensembles. She is a sought-after adjudicator and clinician, having been invited to adjudicate at the Hong Kong Schools Music Festival on three occasions and nationally with her last posts in Ottawa and Calgary.
Born in Toronto, Ms. Kuschak began cello studies at the age of 11. She is the recipient of a Bachelor of Music in Performance from the University of Toronto, where she studied with Vladimir Orloff (former principal of the Vienna Philharmonic) and Daniel Domb (former principal of the Toronto Symphony), and at the Banff School of Fine Arts with Janos Starker, Tsuyoshi Tsutsumi and Aldo Parisot.
LYSANDER PIANO TRIO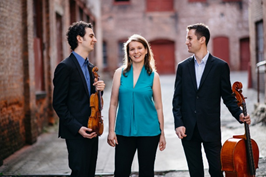 The Lysander Piano Trio, a winner of the Concert Artists Guild Competition, has been praised by the Strad for its "incredible ensemble, passionate playing, articulate and imaginative ideas and wide palette of colours." The Trio has developed a reputation for innovative programming of master works from the canon alongside newer works and hidden gems of the repertoire. The ensemble's busy tour schedule has included performances at Weill Recital Hall at Carnegie Hall, the Kennedy Center in Washington D.C., Lincoln Center's Alice Tully Hall, Princeton University and Chicago's Dame Myra Hess Concert series.
The Lysander Piano Trio was formed at The Juilliard School in 2009, and selected that year to represent Juilliard in a special concert in Mexico City on the occasion of President Joseph Polisi's visit to Mexico.  The Trio has performed in master classes for Alfred Brendel and for Ida and Ani Kavafian at the Chamber Music Society of Lincoln Center, and it has studied with Ronald Copes of the Juilliard String Quartet, Joseph Kalichstein of the Kalichstein-Laredo-Robinson Trio, and Seymour Lipkin. The Lysander Trio takes its name from the character in Shakespeare's A Midsummer Night's Dream. The members are Itamar Zorman, violin, Liza Stepanova, piano and Michael Katz, cello.
DAVID MORRISSEY violoncello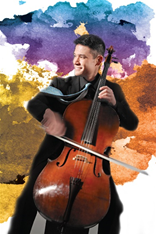 David Morrissey is a California native, born and raised in Los Angeles. In 2008, he won the International Audition for the Calgary Philharmonic Orchestra.
He received his Bachelor's Degree from Indiana University, Bloomington, where he studied with Tsuyoshi Tsutsumi and Janos Starker, and his Master's Degree in Cello from Manhattan School of Music as a student of former Associate Principal Cellist of the NY Philharmonic, Alan Stepansky.
When not performing with the CPO, David collaborates with both Mountain View Chamber Series and ISC, and is a core member of the Kensington Sinfonia.  He is also a tenured member of the Colorado Music Festival Orchestra in residence at the Chautauqua Hall in Boulder, CO.
In his spare time he enjoys swimming and yoga-ing and he is an avid outdoor enthusiast with a passion for exploration. He has also been known to spend his summers teaching not only music, but also swimming and science to K-6 graders in the Los Angeles area.
DONOVAN SEIDLE  violin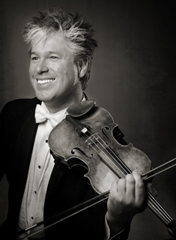 Donovan Seidle is a versatile musician, working steadily as composer, arranger, orchestrator, violinist, teacher and coach.
He holds a BMus in Performance and Composition from the University of Calgary (studio of Edmond Agopian, violin; and William Jordan, composition) and a MMus in Performance from Northwestern University (Roland and Almita Vamos, violin).
Since 2003, he has served as one of the three concertmasters of the Calgary Philharmonic Orchestra, which has included soloing and new works commissions. He is an active participant in the city's artistic community, working regularly in chamber ensembles and multi-disciplinary projects outside of the orchestra, including having directed Calgary's own Kensington Sinfonia for 13 years. He travels to contribute with the I Musici Chamber Orchestra of Montreal, and Vancouver Symphony Orchestra, among others. His past projects have included the inaugural YouTube Symphony Orchestra project at Carnegie Hall, the Opening and Closing Ceremonies of the Vancouver 2010 Olympic Winter Games, and the Aspen Contemporary Ensemble; amongst numerous recording sessions, summer festivals and guest-solo spots locally and internationally.
Donovan is a commissioned composer/arranger writing for various media, including for the concert stage, television and film, live theatre, orchestra shows, and interactive media (games and VR); and he spent his 09/10 sabbatical from the Philharmonic as Associate Music Director for the Emmy Award-winning ceremonies of the Vancouver 2010 Olympic Winter Games. Since then, he has written for such production shows as the 2011 Pan-Arabian Games in Qatar, and the Guinness Record-breaking projection show at the 2011 Moscow City Day. He held a 5-year commissioning contract with the GlobalFest International Fireworks Festival, for supplying the 'required piece' each international team must incorporate into their presentation. Most recently, he has returned from a sabbatical over 2017/18 where he was exploring interactive and video-game music projects in Vancouver.
MARCIN SWOBODA viola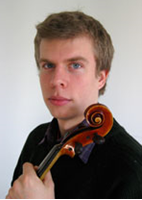 Violist MARCIN SWOBODA has loved and practised music since he was four years old and, like any good love affair, he has left and returned to it many times over. Since 2002, however, he has been an active performer in North and South America as well as Europe. Marcin is keenly interested in many styles of music and has performed with a number of early music and contemporary ensembles including Classical Music Consort and Quatour Molinari.
He is also a founding member of Lovers are People, a Montreal-based rock band. In 2008, Marcin acted as the principal violist of the Orquestra Sinfonica do Estado de Sao Paolo which is often hailed as South Americas leading professional symphony orchestra. Marcin is the currently assistant principal violist of the Calgary Philharmonic Orchestra and completing a doctorate in music performance at McGill University.
ROLSTON STRING QUARTET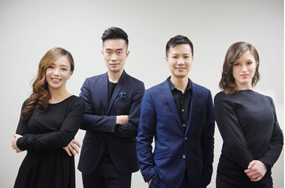 A monumental year, 2016 saw Canada's Rolston String Quartet earn attention and gain recognition from international audiences and critics alike. Culminating the year with a First Prize win at the 12th Banff International String Quartet Competition (BISQC), the quartet's winning included Astral's National Auditions, and Grand Prize of the 31st Chamber Music Yellow Springs Competition. They were also prizewinners at the 2016 Bordeaux International String Quartet Competition and the inaugural M-Prize competition. There is no wonder they were named among Canadian Broadcasting Corporation's "30 Hot Canadian Classical Musicians Under 30" in 2016. Rolston String Quartet continues to be recognized for their musical excellence, they are the 2018 recipient of – and first international ensemble chosen for – the prestigious Cleveland Quartet Award from Chamber Music America.
On the heels of their Banff win, Rolston String Quartet immediately embarked upon the BISQC Winner's Tour, taking them to Germany, Italy, Austria, Canada, and United States. As Musical Toronto states, "they performed with a maturity and cohesion rivaling the best string quartets in the world."  In the 2017-2018 season, they will perform throughout Canada, United States, Europe, and Israel. Highlights include appearances in such venues as the Smithsonian, Kennedy Center for the Performing Arts, Koerner Hall at the Toronto Royal Conservatory of Music, and the Esterhazy Palace.
Rolston String Quartet began as the Yale School of Music's fellowship quartet-in-residence in the fall of 2017. They have also served as the graduate quartet-in-residence at Rice University's Shepherd School of Music, and have participated in residencies and fellowships at the Académie musicale de Villecroze, Aspen Music Festival, Banff Centre, McGill International String Quartet Academy, Norfolk Chamber Music Festival, Robert Mann String Quartet Institute, St. Lawrence String Quartet Seminar, and the Yehudi Menuhin Chamber Music Festival.
Notable collaborations for the Rolston String Quartet include performances with renowned artists Andrés Díaz, Gilbert Kalish, Mark Morris, Donald Palma, Jon Kimura Parker, and Miguel da Silva. Additionally, they have worked with songwriter Kishi Bashi and composers John Luther Adams and Brian Current. Primary mentors include the Brentano Quartet, James Dunham, Norman Fischer, and Kenneth Goldsmith, and the quartet has received additional guidance from the St. Lawrence String Quartet, Barry Shiffman, Miguel da Silva, and Alastair Tait.
The Rolston String Quartet, Luri Lee (violin), Emily Kruspe (violin), Hezekiah Leung (viola) and Jonathan Lo (cello), was formed in the summer of 2013 at the Banff Centre for Arts and Creativity's Chamber Music Residency. They take their name from Canadian violinist Thomas Rolston, founder and long-time director of the Music and Sound Programs at the Banff Centre for Arts and Creativity.
Luri Lee plays a Carlo Tononi violin, generously on loan from Shauna Rolston Shaw. Rolston String Quartet is endorsed by Jargar Strings of Denmark.
TON BEAU STRING QUARTET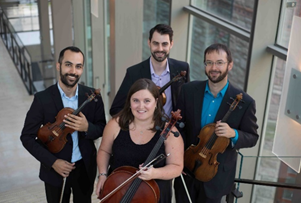 Since its inception in 2010 at the University of Toronto, the Ton Beau String Quartet has been committed to engaging and challenging audiences by presenting a mix of classical quartet gems along with music that is being composed today. With a special focus on contemporary music, the quartet aims to highlight voices of young composers, particularly women composers and composers from under-represented communities.
The Ton Beau have performed at Maureen Forester Hall, the KWCS Music Room, the Toronto Music Gallery, Rolston Hall, Gallery 345, and the Toronto Music Garden. The quartet has also enjoyed several successful collaborations, with folk band The Kruger Brothers, Spectrum Music, pianist David Braid, the Iranian Composers of Toronto, the Afiara and Cecilia String Quartets, and many artists and curators. In our own concert series, Ton Beau Concerts, we have presented programs with several prominent Canadian artists, including pianist Peter Longworth, clarinetist Peter Stoll, Emily Rho, and members of the Cecilia String Quartet.
In 2017 the Ton Beau Quartet recorded its first CD, "The Silent Voices Project", which features 14 pieces inspired by poems written by children who died in concentration camps, from the collection "I Never Saw Another Butterfly". Whole Note Magazine called the resulting project "Outstanding….This is an exceptional project, a heartfelt labour of love and respect".
Each member of the TBSQ is dedicated to inspiring people of all ages through music education. They can be found coaching and teaching several times a week, privately and as part of the Sistema Toronto Academy. As a quartet, they have presented workshops and masterclasses at Wilfrid Laurier University, the University of Toronto, the Westport Chamber Music Festival, Vanderbilt University, and many schools in the Greater Toronto Area..
Past guest artists
Aaron Au, Arthur Bachmann, Nigel Boehm, Martin Bonham, Cecilia Quartet, Christine Bootland, Arnold Choi, Danuta Ciring, Escher String Quartet, Mary Findlay, Judith Fraser, Philip Hansen, Lawrie Hill, Lily String Quartet, Yuri Hooker, John Kadz, Malcolm Lim, April Losey, John Lowry, Thomas Megee,  New Orford String Quartet, Rob Penner (Calgary Philharmonic Orchestra), Players Ensemble, Ben Plotnick, Nick Pulos, Katharine Rapoport, Laura Reid, Beth Root Sandvoss, Daniel Scholz, Liza Scriggins, Scott St. John, John Thompson, Josué Valdepeñas, Winnipeg Chamber Music Society, The Ying Quartet, Mimi Zweig
Past guest coaches
Dorothy Bishop, Andrea Case, Vanessa Goymour, John Lowry, Kirill Kalmykoff, Steven Lubiarz, Thomas Megee, Andrea Neumann, Morag Northey, Dean O'Brien, Andrea Poon, Nancy Russell, Barbara Smith, Stephanie Soltice-Johnston, Laurie Syer, Magdi Szebenyi, Diane Valentine, Karen Youngquist