2022 – 2023 Guest Artists
EDMOND AGOPIAN violin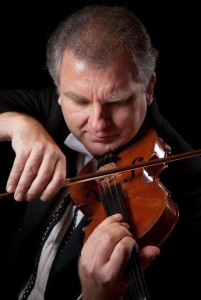 Edmond Agopian began his violin training in Constantza, Romania where, along with classical studies at the Constantza Music Lyceum, he played and toured with a taraf- a Romanian /Gypsy ensemble. After immigrating to Canada he continued his musical studies at the University of Toronto (BMus), the Juilliard School (MMus) and the Masterplayers Music Academy, Switzerland (Honours Diploma). In 1991 Mr. Agopian relinquished his post at Acadia University to take up positions as Professor of Violin at the University of Calgary, Conductor of the U of C Orchestra and Artist-in-Residence at Mount Royal University Conservatory. In 2005 Mr. Agopian was awarded the Alberta Centennial Medal "in recognition of outstanding achievements and service to the people and province of Alberta". At the University of Calgary he was awarded the J. P. L. Roberts Distinguished Professorship in Fine Arts. He has been on the faculty of the Morningside Music Bridge summer international program at Mount Royal University Conservatory since its inception in 1997, and is the founder and artistic director of the University of Calgary summer chamber music festival, Contrasts. For thirteen years, he was the Music Director / Concertmaster of Calgary's professional string orchestra, the Kensington Sinfonia.
Conducting work has included performances with the Shanghai Opera Orchestra, the Polish Baltic Philharmonic Orchestra, the National Arts Centre Orchestra, the Canadian Chamber Orchestra (conductor and concertmaster), and yearly engagements with the Calgary Philharmonic Orchestra. In 2002 he was appointed Music Director of the Calgary Youth Orchestra, Mount Royal University.
As a violin soloist and chamber musician he has been featured on CBC Radio French and English, regional and national programs, Radio Europa, Portuguese National Radio, Taiwan National Radio, and soloist with orchestras including the Calgary Philharmonic Orchestra.
As conductor and violinist, he has commissioned, premiered and recorded numerous Canadian compositions by established and up-and-coming composers.
He is the first violinist of the University of Calgary String Quartet, whose recording on the American label MSR Classics was selected for the Canadian Instrumental Group of the Year award and the Western Canadian Music Award. The quartet has performed and recorded the
entire Beethoven String Quartet Cycle, a first for Calgary, and is in the process of completing the Shostakovich String Quartet Cycle. Edmond Agopian's orchestral folk based compositions and arrangements have been performed by the Calgary Philharmonic Orchestra and the Edmonton Symphony Orchestra. His violin method The No Time to Practice Technique Companion has been on the SHAR Music Company's Bestseller List since its publication (sharmusic.com) and has been positively reviewed in the American String Teacher magazine.
Prof. Edmond Agopian is the recipient of the University of Calgary Graduate Supervisor Award.
JOAN E BARRETT violin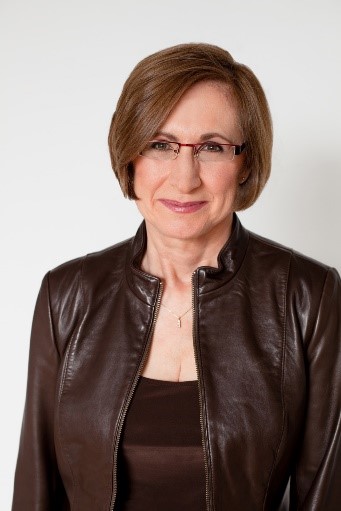 Canadian violinist Joan Barrett has a wealth of experience as performer, teacher, adjudicator and coach. Her performing experience includes chamber music, solo recitals and performances with orchestra in addition to serving as Principal, Calgary Philharmonic Orchestra, Assistant Concert Master, Stratford Festival Orchestra, and member of Kensington Sinfonia.
Prior to leaving Calgary for Toronto, Joan Barrett was deeply involved in the founding of the Academy program at MRU's Conservatory where she taught violin, chamber music and conducted one of the orchestras. A recipient of Mount Royal University's Distinguished Teaching Award, her students have been competition winners at the national level and are active professionally.
Raised in Ontario and furthering her education at Indiana University, Joan Barrett is grateful to have been taught and mentored by outstanding teachers and musicians such as Josef Gingold, David Zafer, Paul Rolland, Ivan Galamian and Ruggiero Ricci. Subsequently she has been influenced by the work of Moshe Feldenkrais, M.F. Alexander, Carol Ann Erickson and Andover Educators (Bodymapping.)
A passionate educator, Ms. Barrett has taught at University of Toronto, The Royal Conservatory, as well as being the first String Co-ordinator of its Young Artists Performance Academy. In 2012 she was the Artistic Consultant in the creation of nine recordings to accompany The Royal Conservatory's new Violin Series publications.
An accredited professional coach (OISE/Adler), Joan Barrett also has a successful coaching practice working with leaders, professionals in the arts and students to address challenges with performing, and career and life transitions. She currently teaches privately, is an Academy Coach at MRU Conservatory, teaches violin and chamber music at University of Calgary and is most pleased to be, once again, returning to work at Amici with its enthusiastic students and dedicated teachers.
CHRISTINA BOUEY violin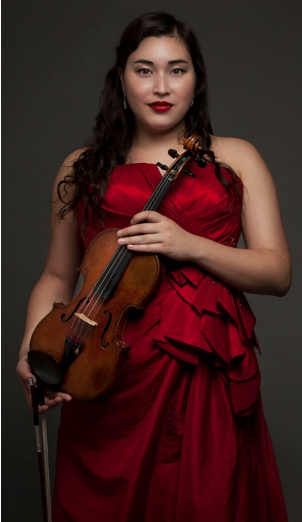 Canadian violinist, Christina Bouey, is hailed by the New York Times for playing "beautifully," by the New York Post, "When violinist Christina Bouey spun out that shimmering tune, I thought I died and went to heaven," and by Opera News, for playing "with exquisite, quivering beauty." Her recent prizes include 1st Prize at the Schoenfeld International String Competition in the chamber division, Grand Prize at the Fischoff Competition, 1st place in the American Prize, and 2nd prize at the Osaka International Chamber Competition. Among her other top awards include the Hugo Kortchak Award for outstanding achievement in chamber music, Heida Hermann International, Canadian National Music Festival, Queens Concerto Competition, and the Balsam Duo Competition. Christina has performed as soloist with the Greenwich Symphony, Cayuga Chamber Orchestra, Salina Symphony, River Cities Symphony, Symphony of the Mountains, Tonkünstler Ensemble, Metro Chamber Orchestra, Bergen Symphony, Prince Edward Island Symphony, Banff Orchestra, Shattered Glass and the Hemenway Strings. Her solo and chamber credits include Carnegie Hall, Esterházy Palace, Taiwan National Recital Hall, Harbin Grand Theatre, Metropolitan Museum of Art, Chamber Music Society of Lincoln Center, Schneider Series, Rockefeller Tri-I Noon Series, Dame Myra Hess series, La Jolla Summer Fest, Premiere Performances Hong Kong, Vietnam Connection Music Festival, Kneisel Hall Festival, Emilia Romagna Festival, Harvard Club of New York, Montreal Chamber Festival, Debut Atlantic, Kansas International Music Festival, L'Archet Concert Group and the Indian River Festival. She has also been featured on WQXR New York. Christina has collaborated with artists such as David Chan, Jeremy Denk, Paul Coletti, Lynn Chang, Robert DeMaine, Steven Doane, Rosemary Elliott, David Geber, Clive Greensmith, Toby Hoffman, Chee-Yun Kim, Yura Lee, Cho-Liang Lin, and Bright Sheng.
Christina graduated from Manhattan School of Music (2013) with a Professional Studies Certificate in Orchestral Performance, studying with Glenn Dicterow and Lisa Kim as a full scholarship student, (2012) with a Professional Studies Certificate, studying with Laurie Smukler, and in 2011 she received a Master of Music, while studying with Nicholas Mann. Her Bachelor of Music (Magnum cum laude) is from The Boston Conservatory; where she studied with Irina Muresanu as a full-scholarship student.
In June 2014, as part of the 150 year celebrations on PEI, professional dancers from Ballet Jazz de Montreal performed a modern dance to her first compositional commission for solo violin, with Christina playing it on the violin. Christina is currently serving as concertmaster of the Cayuga Chamber Orchestra, is a member/founder of the Ulysses String Quartet, and plays in a duo with pianist Tatiana Tessman. She plays an 1820 Pressenda on generous loan from the Canada Council Instrument Bank. To keep up to date with Christina, you can follow her website: www.christinabouey.com.
KATHLEEN DE CAEN cello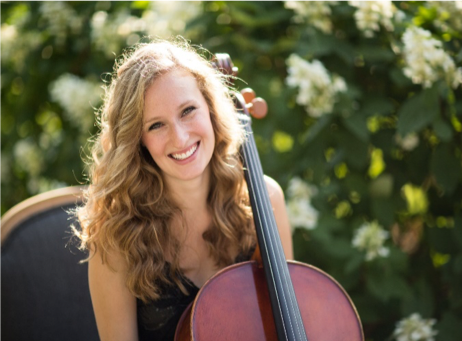 Growing up in Edmonton, Kathleen de Caen started playing the cello at age 5. Her primary teachers were Grazyna Sobieraj, Julie Amundsen, and Tanya Prochazka; with whom she completed a Bachelor's degree at the University of Alberta. She later went on to complete a Master's degree in cello performance with Matt Haimovitz at McGill University.
As a soloist, she has been invited to perform with the Edmonton Symphony Orchestra on multiple occasions for their education series. Kathleen was also the featured young artist of the ESO's 2012 Symphony Under the Sky series.
As a chamber musician, Kathleen has performed across North America with musicians such as Yehonatan Berick, Jean Efflam-Bavouzet and Paul Coletti. She has participated numerous times with Matt Haimovitz's ensemble, Uccello, who performed at Carnegie Hall in 2013. In 2016, Kathleen co-founded Trio De Moda, an Alberta based string trio that has performed across Alberta and the Maritime provinces.
Kathleen was acting principal cello of Symphony Nova Scotia, in Halifax, for the 2017/2018 series but is very excited to be back in Alberta and a section cellist in the Calgary Philharmonic Orchestra.
JINJOO CHO violin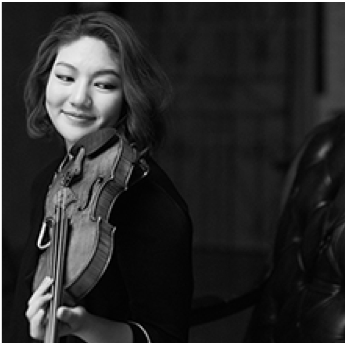 Violinist Jinjoo Cho is an artist model of the 21st-century. Since her concert debut at age 7, she has been numerously recognized as the winner of world's most prestigious competitions such as the International Violin Competition of Indianapolis, Montreal International Musical Competition, Buenos Aires International Violin Competition, Alice Schoenfeld International String Competition, and a laureate of 2011 Isang Yun International Music Competition. As a charismatic female solo artist, a vibrant and engaging chamber musician, a devoted teacher, an innovative artistic director, and a published writer, Jinjoo is redefining what it means to be a consummate classical artist in the modern society.
Jinjoo can be found performing in distinguished international venues and festivals alike Carnegie Hall's Stern Auditorium, Aspen Music Festival, La Jolla Music Society, the Herkulessaal of Munich, Schwetzingen SWR Festspiele, Seoul Arts Center, and Teatro Colón of Buenos Aires, with world's leading orchestras and musicians as The Cleveland Orchestra, Orchestre symphonique de Montréal, Deutsche Radio Philharmonie, Seoul Philharmonic, Orquesta Clasica Santa Cecilia de Madrid, Phoenix Symphony, North Carolina Symphony, James Gaffigan, Michael Stern, Kent Nagano, Peter Oundjian, Tan Dun, Jaime Laredo, Sharon Robinson, Tito Muñoz, Mathieu Herzog, Itamar Golan, and Roger Tapping. She regularly tours with creative programs that include works of living composers and lesser-known repertoire.
A passionate teacher, Jinjoo is on the violin faculty at the Schulich School of Music at McGill University and has previously taught at the Cleveland Institute of Music and Oberlin Conservatory. She is also the Founder/Artistic Director of ENCORE Chamber Music, an intensive summer training program for talented young performers in Cleveland, and regularly gives master classes worldwide.
Jinjoo is an alumna of Cleveland Institute of Music (BM, MM, PS) where she studied with Paul Kantor and Jaime Laredo. She also received training at the Curtis Institute of Music, Kronberg Academy, Aspen Music Festival and School, Perlman Music Program, New York String Orchestra Seminar, Music@Menlo, and Banff Centre's Chamber Music Residency Program. Jinjoo's artistic personality was greatly influenced by the Cavani String Quartet, members of the Cleveland Quartet, and the Kalichstein-Laredo-Robinson Trio. Jinjoo now lives in Montreal with her toy poodle, Miso, and enjoys visiting art galleries, collecting kitchen magnets and stationeries, and listening to Indie Rock in her spare time.
PIERRE-ANDRÉ DOUCET piano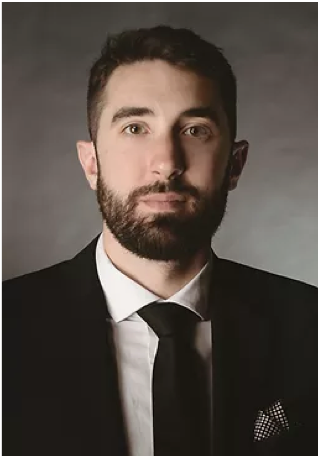 Renowned for his vivid soundscapes and inventive texts, pianist and writer Pierre-André Doucet is a leading voice among Canada's newest generation of artists.
In addition to having been heard on NPR, Radio-Canada, Espace musique, and CBC Radio's Next! series, Mr. Doucet has also been featured on CBC Radio 2's list of 30 Hot Canadian Classical Musicians Under 30. Recent musical projects have seen him perform extensively across Canada, as well as in Austria, France, Germany, South Africa, Spain and the United States. He has also performed aboard the ms Koningsdam as a member of its inaugural Lincoln Center Stage piano quintet, a collaboration between the Lincoln Center for the Performing Arts and Holland America Line.
Mr. Doucet has been a guest soloist with several orchestras in Canada and South Africa, under the leadership of Airat Ichmouratov, Carel Henn, Stéphane Laforest and Véronique Lussier. An engaging chamber musician and vocal pianist, he frequently works with countless established singers, choirs, instrumentalists and ensembles, including members of the Los Angeles Philharmonic, the Montreal Symphony Orchestra, the Vancouver Symphony Orchestra, and the roster of the Metropolitan Opera.
Winner of the prestigious Knigge Piano Competition, Mr. Doucet has also been a laureate of the Women's Musical Club of Toronto Career Development Award Competition and the Prix d'Europe. Furthermore, he has been recognized for his evocative and compelling readings of contemporary scores at the Ibiza International Piano Competition, as well as the Eckhardt-Gramatté Competition alongside his duo partner, soprano Alexandra Smither. His ardent work in disseminating new music has also led him to premiere works by William Bolcom, Mark Carlson, Richard Gibson, Hendrik Hofmeyr, Libby Larsen, Nicole Lizée, Pierre Michaud, Jared A. Miller, Jocelyn Morlock, and Alan L. Smith.
Mr. Doucet has been a guest professor at l'Université de Montréal, where he completed doctoral studies in 2016 under the tutelage of Maneli Pirzadeh. Previously, he studied with Richard Boulanger at l'Université de Moncton. Additional studies have allowed him to perfect his craft and perform at the Tanglewood Music Center, Music Academy of the West, the Franz-Schubert-Institut, Toronto Summer Music, the Tuckamore Chamber Music Festival, the Orford Festival, the Gijón International Piano Festival, Internationaler Klaviersommer Bad Bertrich, Opera on the Avalon, the Vancouver International Song Institute and as recipient of a Stern Fellowship at Songfest. Through these experiences, he has benefited from masterclasses with such luminaries as Sir Thomas Allen, Elly Ameling, Helmut Deutsch, Julius Drake, Margo Garrett, Marilyn Horne, Graham Johnson, Warren Jones, Kiri Te Kanawa, Martin Katz, Rosemarie Landry, Christa Ludwig, Robert McDonald, Michael McMahon, Francis Perron, Paul Stewart, Sanford Sylvan, Dawn Upshaw, Roger Vignoles and Howard Watkins. He has received financial support from the Social Sciences and Humanities Research Council of Canada (Joseph-Armand Bombardier Graduate Scholarship), the Fonds québécois de recherche en société et culture, the Canadian Art Song Foundation, the Conseil des arts et des lettres du Québec and the New Brunswick Arts Council.
​Pierre-André Doucet has been published in Ancrages, Impossible Archetype and Voix plurielles. His first collection of poetry and short stories, Sorta comme si on était déjà là (Éditions Prise de parole), was shortlisted for the Prix littéraire Émile-Ollivier, in addition to having earned him the Discovery of the Year award at the Gala des Prix Éloizes. He has also been awarded the Antonine-Maillet-Acadie Vie Literary Award for Kilométrage (Prix Volet jeunesse Richelieu), and was twice a finalist at the Francophone Games, in Beirut and Nice. Following his stay in Lebanon, Mr. Doucet served as Artistic Director of the Suites du Phénix, a literary blog featuring work by emerging francophone writers.
A community-minded artist, Mr. Doucet has spent almost fifteen years administering non-profit organisations dedicated to culture, language rights, health, leadership and arts education. He currently serves as Co-Artistic Director of Barachois Summer Music, in his native New Brunswick.
KERRY DUWORS violin & KATHERINE DOWLING piano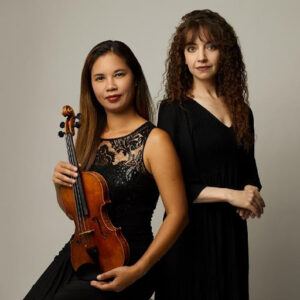 Hailed for her "soaring cantilena" (Gramophone Magazine), violinist Kerry DuWors has performed across Canada, the USA, Europe, Mexico, Japan and New Zealand. In demand as a versatile chamber musician, highlights include performances with duo526, James Ehnes, Yo-Yo Ma, Dame Evelyn Glennie and NYC-based The Knights. Praised for "always finding the music behind the notes" (Winnipeg Free Press), she has been soloist with the NACO, Winnipeg Symphony, Saskatoon Symphony, and Manitoba Chamber Orchestra. DuWors has won prestigious awards including Grand Prize at the 26th Eckhardt-Gramatté National Music Competition. She is a four-time laureate of the Canada Council Musical Instrument Bank Competition, and currently plays on a modern instrument by Felix Krafft modeled after the 1735 "Plowden" Guarneri. She has been Associate Professor at Canada's Brandon University since 2003.
> kerryduwors.com
Praised by the New York Times for her "crystalline performances, gestural expressiveness, and careful attention to colour," and by the Boston Globe for her "effortless incisiveness," award-winning pianist Katherine Dowling performs across North America and Europe as a solo and chamber musician. Katherine Dowling is familiar to audiences as a multi-year fellow of the Tanglewood Music Center, a New Fromm Fellow, and as a Britten-Pears Young Artist; through numerous positions at The Banff Centre for Arts and Creativity, the Orlando Festival, and the Avaloch Farm Music Institute; and through multiple Winners' Tours under the auspices of the Eckhardt-Gramatté National Music Competition. As a member of the chamber ensemble Gruppo Montebello, she appears on many critically-acclaimed recordings on the Etcetera label. In addition to her performing activities, Katherine teaches piano and chamber music at the University of Regina.
> katherinedowling.com
ANN ELLIOTT-GOLDSCHMID violin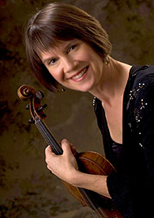 Violinist Ann Elliott-Goldschmid is a founding member of the renowned Lafayette String Quartet, Artists in Residence at the University of Victoria, Victoria, British Columbia.  A native of New Brunswick, Canada, she was greatly influenced by both of her parents, pianist Patricia Grant Lewis and composer and conductor, Carleton Elliott.  Early, formative studies were with Pauline Harborn, then later with Victor Yampolsky who remained her mentor until finishing her studies at Boston University.
Ann has been the recipient of many awards and scholarships; in her early years she was the star of the New Brunswick Music Festival and won the Canadian National Music Festival.  She was awarded a full scholarship to study at Boston University and was twice awarded the certificate for outstanding performer.  She was the winner of the BU Concerto Competition and was active in the concertizing scene of Boston while still a student there.  She was the first violinist of the Honors String Quartet, working closely with Eugene Lehner and Endel Kalam.  For two summers she was awarded scholarships to study in Zurich, Switzerland with Nathan Milstein and in Ammerland, Germany with Denes Zsigmondy.  She was a full-time member of the Emanuel Chamber Players and the Harvard Chamber Orchestra and was in demand as a free-lance musician.
In 1984 she accepted the position as assistant concertmaster of the newly formed Renaissance City Chamber Players in Detroit and it was there that she met her colleagues in the Lafayette String Quartet.  After leaving the Chamber Orchestra, Ann taught violin and chamber music at the Center for Creative Studies, the Rochester Conservatory of Music and at Oakland University where the members of the Lafayette Quartet were in residence.  She gave numerous recitals in the Detroit area primarily collaborating with pianists Flavio Varani and Dati Mehta.
Though working together beforehand, it was in July of 1986 that the Lafayette String Quartet's career was officially launched.  That same year the LSQ won the Cleveland Quartet Competition resulting in two years of study with members of the Cleveland Quartet at the Eastman School of Music.  Ann studied with Donald Weilerstein both as a soloist and as a chamber musician.  Charlie Castleman and Lynn Blakesly were also wonderful influences.
Until his untimely death in December of 1997 however, it was Rostislav Dubinsky, primarius of the Borodin Quartet, who remained the musical father for all of the members of the LSQ.  It was his belief in the quartet; his dedication to them as individuals and his constant encouragement that enabled the LSQ to continue working as a foursome for over 20 years, a feat no other all-female quartet has managed.
Active in the music scene of Victoria and abroad, Ann is concertmaster of the Galiano Ensemble, is a regular guest of the Olympic Music Festival and the Eine Kleine Summer Music Festival.  A huge advocate for Strings in the public schools, she along with her colleague Pamela Highbaugh Aloni, conceived of and team-teach the Strings Mentoring program at UVic.  She has been an instructor for the CYMC, the National Youth Orchestra of Canada, and the Egmont Summer Music Festival.  She is in great demand as a violin and chamber music coach, adjudicator and player.
Ann has recorded numerous times for CBC radio both as a soloist and with the Lafayette String Quartet.  Along with the many recordings of the LSQ, Ann and her mother have recorded Murray Adaskin's first Sonata for Violin and Piano (AdLar), and she has recently finished recording Beethoven string trios arranged for guitar with her UVic colleagues Alex Dunn, guitar, Lanny Pollet, flute and Joanna Hood, viola.
JANET KUSCHAK cello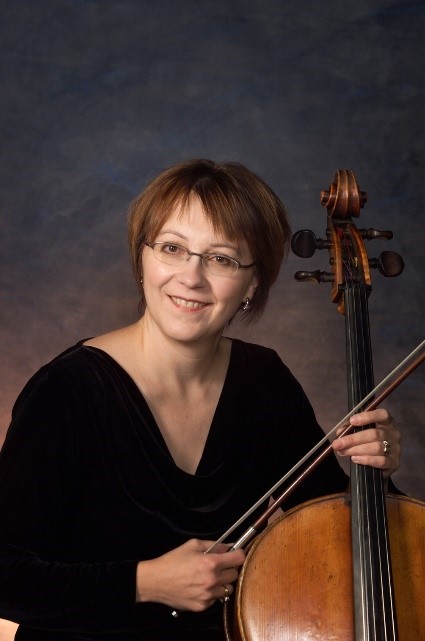 Cellist Janet Kuschak, an accomplished orchestral and chamber musician, has been a tenured member of the Canadian Opera Company Orchestra, the National Ballet of Canada Orchestra and was a founding member of Toronto's Esprit Orchestra. She has performed in the cello sections of some of Canada's most distinguished orchestras including the National Arts Centre Orchestra, the Calgary Philharmonic Orchestra, the Edmonton Symphony Orchestra, Symphony Nova Scotia, Hamilton Philharmonic, Te Deum in Hamilton, Kensington Sinfonia, and was invited as guest principal with the Saskatoon Symphony. Ms. Kuschak also frequently performs on baroque cello, an added skill that has led her to collaborate with various early music groups such as Spiritus Chamber Choir, Early Music Voices, Rosa Barocca and Early Music Alberta. She currently holds the position of principal cellist of the Red Deer Symphony Orchestra.
Ms. Kuschak has in the past taught at the Toronto Waldorf School and, with Suzuki certification, the Calgary Talent Education Society. Ms. Kuschak has her own teaching studio in Red Deer. Her students enjoy performing solo recitals and cello ensembles. She is a sought-after adjudicator and clinician, having been invited to adjudicate at the Hong Kong Schools Music Festival on three occasions and nationally with her last posts in Ottawa and Calgary.
Born in Toronto, Ms. Kuschak began cello studies at the age of 11. She is the recipient of a Bachelor of Music in Performance from the University of Toronto, where she studied with Vladimir Orloff (former principal of the Vienna Philharmonic) and Daniel Domb (former principal of the Toronto Symphony), and at the Banff School of Fine Arts with Janos Starker, Tsuyoshi Tsutsumi and Aldo Parisot.
JOHN LOWRY violin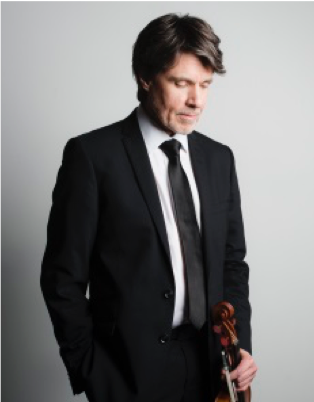 John Lowry has been Associate Concertmaster of the Calgary Philharmonic Orchestra since 1987 and has also served as guest concertmaster of orchestras in Edmonton, Halifax, Winnipeg, Kitchener-Waterloo, and Red Deer, as well as the Adelaide Symphony of South Australia. He was formerly Concertmaster of the New Hampshire Philharmonic, Opera New England and Yale Philharmonia, and has performed extensively with the Toronto Symphony, National Arts Centre Orchestra, Boston Pops, Canadian Opera Company, Opera Company of Boston, Amadeus Ensemble, National Ballet, Esprit and New Haven Symphony. John was the founder and first artistic director of the Kensington Sinfonia in Calgary, and has appeared as soloist with professional orchestras in Calgary, Edmonton, Toronto, Halifax, and Red Deer; with such conductors as Hans Graf, Mario Bernardi, James Judd, Jean-François Rivest, Timothy Vernon, Ivars Taurins, Pierre Hétu, and Claude Lapalme.
A native of Edmonton, John began his studies with Ranald Shean, going on to graduate from the University of Toronto (BM) and Yale University (MM). His principal teachers included George Neikrug, David Zafer and Oscar Shumsky. He also participated in master classes and received extensive coaching from Steven Staryk, Orford Quartet, Tokyo Quartet, Rafael Hillyer, Joseph Silverstein, Szymon Goldberg, Lorand Fenyves, Sidney Harth, Zoltan Székely, Gábor Magyar, Anthony Newman, Jose Luis Garcia, Henri Temianka, and Shmuel Ashkenazi.
John is a founding member of Calgary's Land's End Ensemble, specializing in 20th and 21st-century music, whose recordings have won the Western Canadian Music Award for Outstanding Classical Recording in 2005 and 2006, as well as the Juno Award for Classical Composition of the Year in 2014. The Ensemble has performed at important festivals throughout Canada, most recently at the International Society for Contemporary Music World Music Days in Vancouver, and has given premieres of many landmark Canadian composers, including R. Murray Schafer, Allan Gordon Bell, Vincent Ho, and Omar Daniel. John has collaborated with such luminaries as James Campbell, Evelyn Glennie, Barry Shiffman, Robert Aitken, Jeff Nelson, Joel Sachs, Bernadene Blaha, Rivka Golani, Kevin Fitz-Gerald, Eliot Fisk, Robert Silverman, Angela Cheng, and Miriam Fried, and has performed with Aventa Ensemble, the Athabasca String Quartet, Rosa Selvatica, Trio Haydn de Montréal, and Yale Contemporary Ensemble. John's violins were made by Christopher Sandvoss in 2015, and Carlo Ferdinando Landolfi in 1769.
He was previously on the faculty of the University of Manitoba and the University of Lowell, Massachusetts, and has also taught at the University of Calgary, as well as through summer programs at the Banff Centre, Comox Valley Youth Music Centre, Langley Community Music School, SUNY Potsdam, JVL Summer School for the Performing Arts and Spencer Brook String Program in Massachusetts. He is an expert in the Dounis violin method and a frequent audition coach. Several recipients of his coaching have won positions in professional orchestras, and his students have earned top prizes in local and national festivals and competitions.
ANNALEE PATIPATANAKOON violin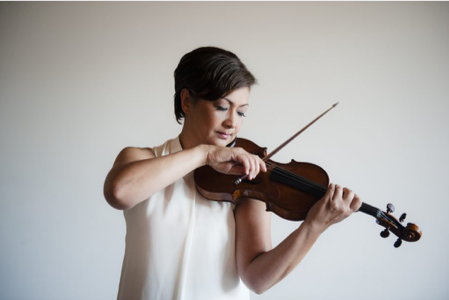 Violinist Annalee Patipatanakoon is one of Canada's most respected performing artists. A graduate of Indiana University and the Curtis Institute of Music, Annalee is a laureate of the Queen Elisabeth Competition in Brussels, and a first prize winner of both the Canadian Music Competition and Eckhardt-Gramatté National Music Competition.
Annalee is a founding member of three-time Juno Award-winning Gryphon Trio. She can be heard on 22 recordings on Analekta, Naxos, and other labels.
Annalee maintains a busy touring schedule across North America and Europe. From 2007 to 2020, she served as Artistic Advisor to the Ottawa Chamber Music Society. Annalee is currently Associate Professor of Violin and Performance Area Chair of Strings at University of Toronto Faculty of Music. She and Gryphon Trio members Roman Borys and Jamie Parker are ensemble-in-residence at the Isabel Bader Centre for Performing Arts in Kingston, Ontario and artists-in-residence at Trinity College, University of Toronto.
Equally in demand as a teacher of violin and chamber music, Annalee has conducted masterclasses at Rice University, Stanford University, Royal Conservatory of Music, Hochschule für Musik Mainz, Domaine Forget, Orford Music Academy, Tuckamore Festival and School, Mount Royal University, and many more.
With Gryphon Trio members Roman Borys and Jamie Parker, Annalee leads educational projects in music schools and communities across the country. These include the ensemble's flagship Listen Up! arts outreach program, with permanent hubs in Ottawa and Etobicoke; Orford Music Academy's Piano Trio Workshop; and the Classical Music Summer Programs at Banff Centre for Arts and Creativity.
NICK PULOS viola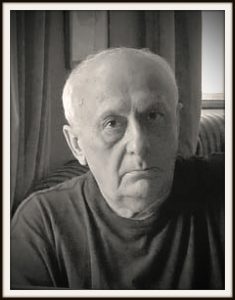 Nick Pulos (B. Mus., M.Mus.) was born in Calgary. His principal teachers were Ranald Shean, Tom Rolston, Frederick Grinke (RAM London) and Stephen Kondaks (McGill). He also worked with William Primrose, Denes Koromzay, Cecil Aronowitz and Peter Schidloff.
A founding member of the National Arts Centre Orchestra, Mr. Pulos has performed with the Edmonton Symphony (principal violist & guest soloist), Royal Philharmonic, Welsh Philharmonia, Swiss Radio Orchestra, and Calgary Philharmonic. For several years, he was principal second violin of the Alberta Baroque Ensemble and has appeared as violist and violinist with numerous chamber ensembles throughout Alberta, B.C., England and Switzerland. With the Edmonton Symphony he performed solo works by Walton, Berlioz, Handel-Casadesus, Mozart, Strauss, Telemann, Hummel and Malcolm Arnold.
Besides teaching violin and viola, Mr. Pulos coaches chamber music and conducts. He is a past music director of the Calgary Youth Orchestra, leading the orchestra on three international tours. While conductor of MRU's Conservatory Strings, the orchestra recorded 2 full-length CDs and performed Benjamin Britten's children's opera, Noyes's Fludde for the CBC. He initiated the orchestral component of Morningside Music Bridge of which he was a faculty member for more than 10 years.
His students have gone on to study at the Royal Conservatory of The Hague, Glenn Gould School, Julliard, McGill, Oberlin Conservatory, Rice University, University of Michigan, and the Vancouver Academy. Three have been chosen principal violists of the National Youth Orchestra; a number are now playing professionally.
In 2014, Mr. Pulos was named recipient of a Lifetime Achievement Award by the Canadian Viola Society.
ERIKA RAUM violin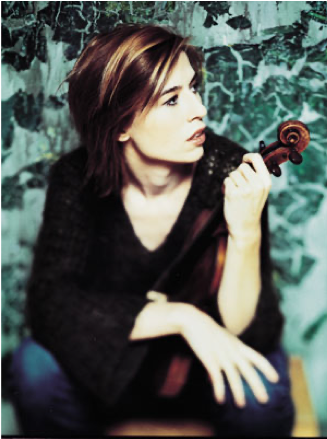 Known for her "engaging sensitivity and a gorgeously full tone," [THE STRAD], Canadian violinist Erika Raum continues developing a following here in her native country and internationally. Playing professionally since the age of twelve, Ms. Raum quickly rose through the ranks by taking first place at the 1992 Joseph Szigeti International Violin Competition in Budapest as well as the award for best interpretation of a Mozart concerto. She has returned on many occasions to perform in Hungary, Portugal, Austria, Germany, England, Italy and France. She has appeared as guest artist with such orchestras as the Budapest Radio Orchestra, the Szombathely Symphony Orchestra, the Austro-Hungarian Orchestra, and the Franz Liszt Chamber Orchestra.
A distinguished musician abroad, Erika also performs frequently throughout her homeland with orchestral appearances in cities such as Toronto, Calgary, Vancouver, Ottawa, Victoria, Halifax, and Edmonton. Both a recitalist and chamber musician, some of her recent highlights international appearances include the Festival Pablo Casals in Prades France, Beethoven Festival in Warsaw, the BargeMusic Festival in New York and past invitation include the Budapest Spring Festival, Szombathely Festival in Hungary, Carnegie Hall as well as the Caramoor and Prussia Cove festivals. During the summer of 2004 Erika participated at the Seattle Chamber Music Festival, Caramoor Festival, Alpenglow Chamber Festival and the Orford Festival.
As a recording artist, Erika joined internationally renowned pianist Anton Kuerti in releasing the world premiere recording of Carl Czerny's piano and violin works. Recorded on this country's most active label, Musica Viva of CBC Records, this premiere recording highlights the masterfully composed, powerfully expressive works by the precocious composer during his teen years. Along with this recording, Ms. Raum's performances are often heard on an array of CBC networks across Canada.
In 1993, composer Elizabeth Raum, Erika's mother, wrote her a violin concerto entitled Faces of Woman. The work was commissioned by the Regina Symphony Orchestra and broadcast nationally by the Canadian Broadcasting Corporation. Erika's sister, Jessica Raum, produced and directed the award winning documentary Like Mother, Like Daughter which recorded the event.
Erika is a graduate of the University of Toronto where she studied with the late Professor Lorand Fenyves and was awarded the prestigious Eaton Scholarship upon her graduation. She is also a recipient of The Canada Council for the Arts – Career Development Grant. Ms. Raum is currently on the faculty of the Faculty of Music, University of Toronto and  the Glenn Gould School at The Royal Conservatory of Music, Toronto. During the summer season, she serves on the faculty of The Banff Centre for the Arts.
AXEL STRAUSS violin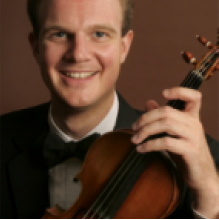 German violinist Axel Strauss, equally passionate about teaching and performing, joined the faculty of the Schulich School of Music of McGill University in 2012. Prior to moving to Montreal he served as Professor of Violin and Chamber Music at the San Francisco Conservatory of Music.
Axel Strauss won the international Naumburg Violin Award in New York in 1998. Later that same year he made his American debut at the Library of Congress in Washington DC and his New York debut at Alice Tully Hall. Since then he has given recitals in major US cities, including Boston, Chicago, Cleveland, Los Angeles and San Francisco. In 2007 he was the violinist in the world premiere of "Two Awakenings and a Double Lullaby" – written for him by Pulitzer Prize winning composer Aaron Jay Kernis.
Mr. Strauss has performed as soloist with orchestras in Budapest, Hamburg, New York, Seoul, Shanghai, Bucharest, San Francisco and Cincinnati, among others. He has collaborated with conductors such as Maxim Shostakovitch, Rico Saccani, Joseph Silverstein, and Alasdair Neale. Mr. Strauss has also served as guest concertmaster of the Berlin Philharmonic as well as the Montreal Symphony Orchestra.
His recordings include the Brahms violin concerto (BPOlive), Mendelssohn's "Songs without Words", the 24 Caprices by Pierre Rode, the last three violin concertos by Rodolphe Kreutzer and the complete works for violin and piano by George Enescu (Naxos). Amadeus Press has issued a DVD featuring Axel Strauss in concert at Steinway Hall in New York City.
Mr. Strauss frequently performs at various music festivals in the US. Festival visits abroad have taken him to Germany, India, Korea and Japan. His chamber music partners have included Menahem Pressler, Kim Kashkashian, Joel Krosnick, Robert Mann and Bernhard Greenhouse.
Since his European debut in Hamburg in 1988, Axel Strauss has been heard on concert stages throughout Europe. He has given concerts in Moscow, Vilnius, Berlin, Bremen, Leipzig and Nuremberg. Concert tours have taken him to Armenia, Azerbaijan and Romania. He has also toured South America and performed in Japan with the Philharmonic Violins Berlin.
At the age of seventeen he won the silver medal at the Enescu Competition in Romania and has been recognized with many other awards, including top prizes in the Bach, Wieniawski and Kocian competitions. Mr. Strauss studied at the Music Academies of Lübeck and Rostock with Petru Munteanu. In 1996 he began working with the late Dorothy DeLay at The Juilliard School and became her teaching assistant in 1998.  He has also worked with such artists as Itzhak Perlman, Felix Galimir, and Ruggiero Ricci, and at the Marlboro Music Festival with Richard Goode, Mitsuko Uchida and Andras Schiff.
JOHN THOMPSON viola
John has recently retired after serving as Principal Viola in the Calgary Philharmonic Orchestra for forty-three seasons. During that time, he was an active performer as a soloist, chamber musician, appearing with the orchestra and visiting artists on many occasions. He has always had an enthusiasm for working with youth, as a teacher at the Mount Royal University Conservatory and the University of Calgary and as a conductor with the Calgary Youth Orchestra and the Conservatory Strings and as a chamber music coach in the Academy programme at MRUC. Many of his students have received honors at local, provincial and national competitions and a number of his students may be found performing with professional orchestras across North America. John is regularly invited to adjudicate across Canada and continues to be active as a violist in a variety of settings. He has been honored with an Alberta Achievement Award and a Distinguished Teaching Award from Mount Royal University for his services to young musicians.
ANDREW WAN violin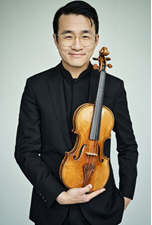 Andrew Wan was appointed concertmaster of the Orchestre Symphonique de Montréal (OSM) in 2008. As a soloist, he has performed around the world under conductors such as Rafael Payare, Kent Nagano, Maxim Vengerov, Vasily Petrenko, Bernard Labadie, Carlo Rizzi, Peter Oundjian, Xian Zhang, Michael Stern and James DePreist. Wan regularly performs as guest concertmaster with the Pittsburgh, Houston, Indianapolis, National Arts Centre, Toronto and Vancouver Symphony Orchestras.
He has performed chamber music with artists such as the Juilliard Quartet, Vadim Repin, Marc-André Hamelin, Daniil Trifonov, Menahem Pressler, Jörg Widmann, Emanuel Ax, Johannes Moser, Arabella Steinbacher, James Ehnes and Gil Shaham, and has participated in Seattle Chamber Music Festivals, La Jolla Summerfest, Ottawa Chamberfest, Toronto Summer Music, Orford Music, St Prex, Colorado College and Olympic.
His discography includes Grammy-nominated and Juno, Felix and Opus award-winning recordings on the Analekta, Onyx, Bridge and Naxos labels with the Seattle Chamber Music Society, the Metropolis Ensemble of New York, Charles Richard-Hamelin and the New Orford String Quartet. In the fall of 2015, he released a live recording of Saint-Saëns' three violin concerti with the OSM and Kent Nagano, on the critically acclaimed Analekta label. His recent live album of works for violin and orchestra by Bernstein, Moussa and Ginastera, with Nagano and the OSM, won the 2021 Juno Award for Best Classical Recording for Large Ensemble.
Wan has a long and fruitful collaboration with Canadian pianist Charles Richard-Hamelin, silver medalist at the 17th Chopin International Piano Competition, with whom he recorded all ten Beethoven sonatas for piano and violin. Their second album of Beethoven's 1st, 2nd, 3rd and 5th sonatas won the 2022 Juno Award for Best Classical Recording for Small Ensemble. Their next recording will include Robert Schumann's sonatas for violin and piano, which will be released in fall 2022.
Wan holds bachelor's and master's degrees in music as well as an artist degree from the Juilliard School.
He is currently a member of the New Orford String Quartet, Associate Professor of Violin at McGill University's Schulich School of Music, Artistic Director of the Prince Edward County Chamber Music Festival and, for the 2017-18 season, Artistic Partner of the Edmonton Symphony Orchestra. In 2019, he won the Schulich School of Music Part-Time Teaching Award.
Andrew Wan is grateful to be able to play on a 1744 Michel'Angelo Bergonzi violin, generously loaned by patron David B. Sela, as well as to be able to use an 1860 Dominique Peccatte bow, on loan from Canimex.
Past guest artists
Edmond Agopian, Aaron Au, Arthur Bachmann, Joan Barrett, Rune Bergmann, Nigel Boehm, Martin Bonham, Christine Bootland, Margaret Carey, Cecilia Quartet, Arnold Choi, Danuta Ciring, Diana Cohen, Jonathan Crow, Kerry DeWors, Ann Elliott, Escher String Quartet, Mary Findlay, Judith Fraser, Laurent Grillet-Kim, Philip Hansen, Rebecca Henry, Lawrie Hill, Joanna Hood, Lafayette String Quartet, Lily String Quartet, Yuri Hooker, John Kadz, Caroline Kim, Malcolm Lim, April Losey, John Lowry, Lysander Piano Trio, Thomas Megee, Violaine Melancon, David Morrissey, New Orford String Quartet, Rob Penner (Calgary Philharmonic Orchestra), Players Ensemble, Ben Plotnick, Nick Pulos, Katharine Rapoport, Laura Reid, Rolston String Quartet, Beth Root Sandvoss, Daniel Scholz, Liza Scriggins, Gerald Stanick, Scott St. John, Marcin Swoboda,  Marina Thibeault, Trio Saint Laurent, John Thompson, Ton Beau String Quartet, Josué Valdepeñas, Sharon Wei, Winnipeg Chamber Music Society, Jasper Wood, The Ying Quartet, Mimi Zweig
Past guest coaches
Colleen Athparia, Dorothy Bishop, Andrea Case, Kathleen De Caen, Naomi Delafield, Vanessa Goymour, John Lowry, Kirill Kalmykoff, Steven Lubiarz, Thomas Megee, Genevieve Micheletti, Andrea Neumann, Morag Northey, Dean O'Brien, Andrea Poon, Jeffrey Plotnick, Theresa Plotnick, Nick Pulos, Laura Reid, Nancy Russell, Anne Scott, Barbara Smith, Stephanie Soltice-Johnston, Louise Stuppard, Laurie Syer, Magdi Szebenyi, Keiko Takahashi, John Thompson, Diane Valentine, Karen Youngquist