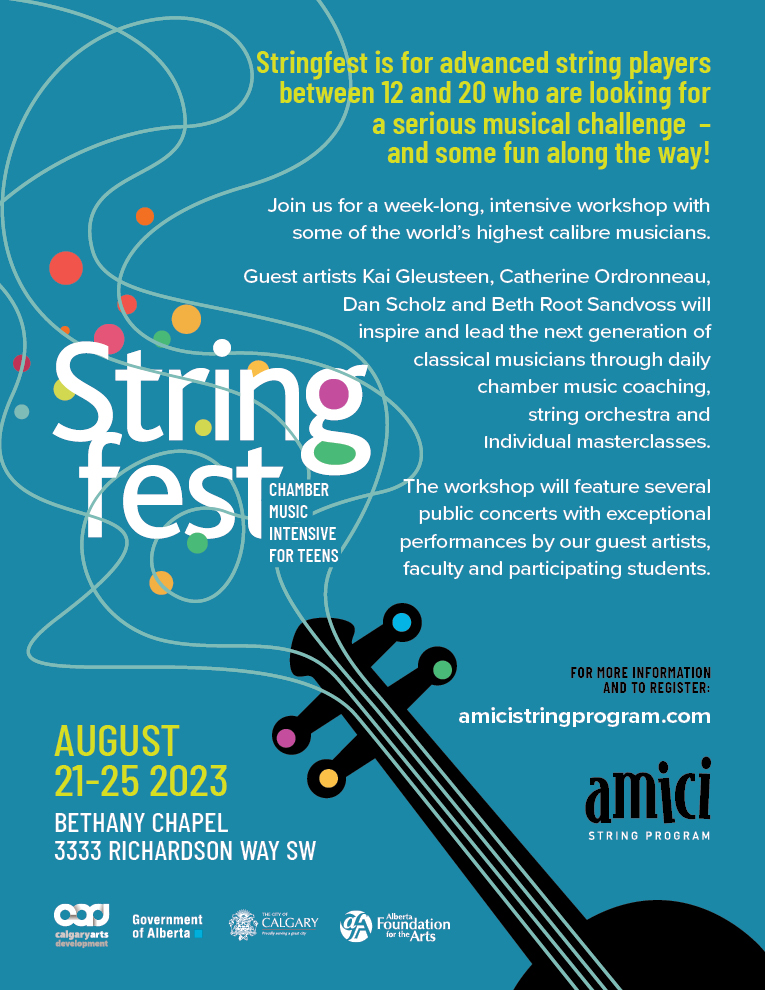 Stringfest 2023, August 21-25
For younger students, consider the Amici String Camp
StringFest is especially for advanced strings players between 12 and 20 who are looking for a serious musical challenge, and for some fun along the way. But it is also for the community: there will be several public concerts with some exceptional performances by our guest artists, faculty, and the students.
Calgary Stringfest is planned to run in person. In the unlikely event that this is not possible, registrations will be refunded.
StringFest has been very highly rated. 11% of respondents to the program survey rated the overall musical experience at Stringfest as "really good". The other 89% said it was "fantastic".
Some student comments:
"I really enjoyed the chance to combine the fun everyone wants in summer, and the musical experience you expect in a music camp!" "I liked the positive atmosphere. The teachers were all very encouraging and the students were all really supportive towards each other." "Being with friends and learning to play great chamber music together!" "This week was amazing! The coaches were friendly, knowledgeable, demanding (in the good way), and all helped us to reach our full potential." "It was pretty epic working with Kai [Gleusteen]" "The best part of StringFest was the opportunity to enjoy great music with wonderful players and clinicians, and the social activities."